---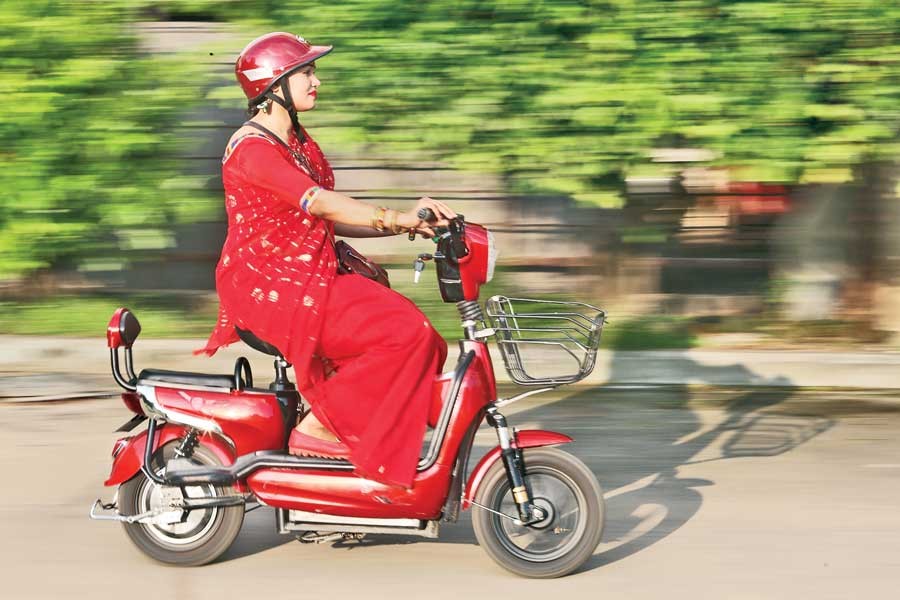 A woman is driving her two-wheeler in Dhaka — FE Photo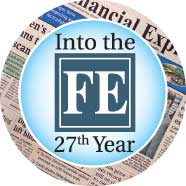 The United Nations-led Sustainable Development Goals (SDGs) promote the agenda of "leaving no one behind" and thus, echo the necessity of gender equality. The SDG 5 underscores achieving gender equality and empowering all women and girls. Gender equality is a human right, a concern for us all rather than just a concern of a group since no society can develop economically, politically, or socially leaving half of its population marginalised. In the history of women's rights, the adoption of Beijing Declaration and Platform for Action by 189 governments in 1995 is pronounced as a turning point and this remains a powerful source of stimulation in the effort to recognise equal opportunities for women and girls. However, while much progress has been made after the declaration, gender inequality continues to hold women back and deprives them of basic rights and opportunities. There is much more to be done to ensure that women and children are guaranteed healthy lives, education, and full social inclusion. This warrants for developing progressive legal frameworks that promote equality and addressing issues such as unfair social norms and attitudes.
The UN member countries are committed to acquiring the SDGs by 2030 and transforming their development into sustainable and inclusive development. The sustainable and inclusive development can only be attained through long-term investments in economic, human and environmental capital. Besides, this inclusive development will only be realised when all human rights, including gender equality, are protected. It is evident that better use of the world's female population could increase economic growth, reduce poverty, enhance societal well-being, while ensuring sustainable development in all countries. Therefore, in order to promote inclusive and sustainable development, it is a prerequisite for building a world where all people have an equal opportunity to materialise their aspirations regardless of their gender. While gender equality can be accommodating for positive economic growth and creating balance in the society, persistent gender inequality may incur high costs for the economy and hamper the capability for sustainable economic growth. There are many studies affirming the statement. The OECD estimates that gender inequality costs the region at least 25 per cent of its GDP. According to the study "Unrealised Potential: The High Cost of Gender Inequality in Earnings", countries are losing US$ 160 trillion in wealth globally because of differences in lifetime earnings between women and men. On a per capita basis, gender inequality in earnings could lead to losses in wealth of $23,620 per person globally.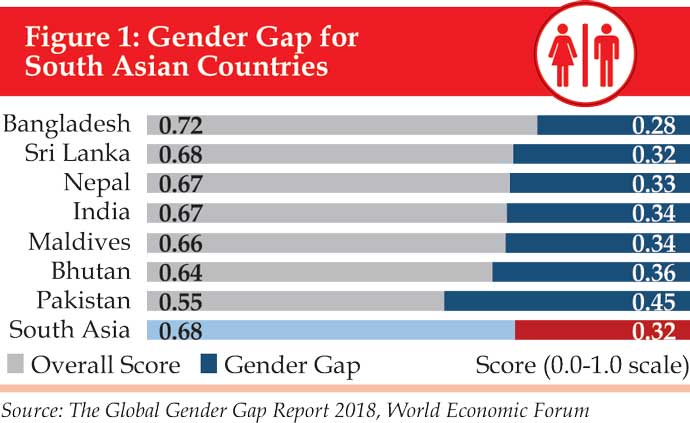 Bangladesh, as a growing economy, also aspires to implement the 2030 agenda and recognises the importance of providing women and girls with equal voices, choices, and opportunities. Now, the question is that how well has Bangladesh performed in ensuring gender equality so far? According to Gender Gap Index 2018, Bangladesh consolidates its position as a top performer in the South Asian region and lower-middle income countries' group. The figure 1 illustrates that Bangladesh scores 0.72 on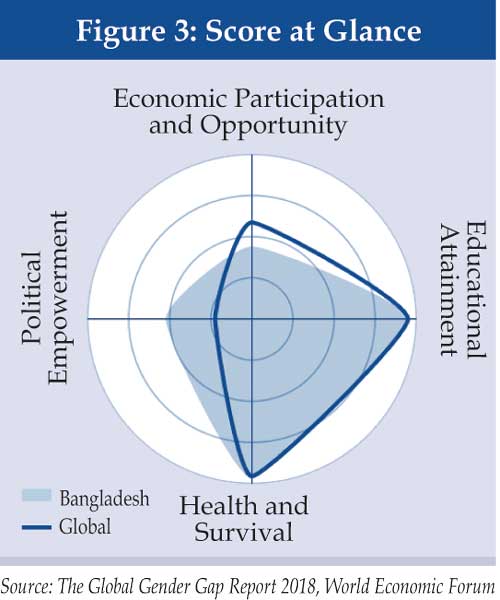 a scale of 0.0 to 1.0. This implies that the gender gap in Bangladesh is 28 per cent. Bangladesh tops among South Asian countries, while the average score for South Asian countries is 0.68. Moreover, Bangladesh has performed well in comparison to global average. It ranks 48th globally. The global gender gap score stands at 68 per cent. This means that, on average, there is still a 32 per cent gap to close. Also, compared to previous years, the progress in reaching gender parity is noticeable. Figure 2 portrays that Bangladesh held 91st position with a score of 0.63 in 2006. The progress is extended by sub-indices too. However, during the years 2006-2018, though Bangladesh was more successful in the areas of educational attainment, health and survival, and political empowerment, there is still scope to improve, especially in economic participation and opportunity. Figure 3 shows, for economic participation and opportunity, the gender gap score of Bangladesh is lower than the global average by 0.15 point. In addition, this score is 0.08 point lower compared to South Asian countries. Bangladesh has showed poor performance in this category because of not being able to put a better showcase in case of female labour force participation; wage equality between male and female for similar work; female professional and technical workers; and legislators, senior officials, managers, etc. Though women's participation in the labour force has increased over time in Bangladesh, it has remained stagnant at about 33 to 36 per cent for the last one decade. In fact, the female labour force participation rate has shown a decreasing trend recently. The female labour force participation rate was 36.3 percent in 2016, reported by the LFS 2016-17, where a recent study conducted by SANEM, in collaboration with General Economics Division (GED), shows that the rate went down to 31.1 per cent in 2018. The decline in number of female workers in the apparel sector has mainly contributed to this poor participation. Besides, the gender pay gap is acting as a dissuasion to women joining the workforce. Women are getting paid less, although they are doing the same work with same skills as men. In 2016, the gender wage gap was 9.8 per cent at the national level, while it was as high as 22.1 per cent in urban areas (LFS, 2016-17).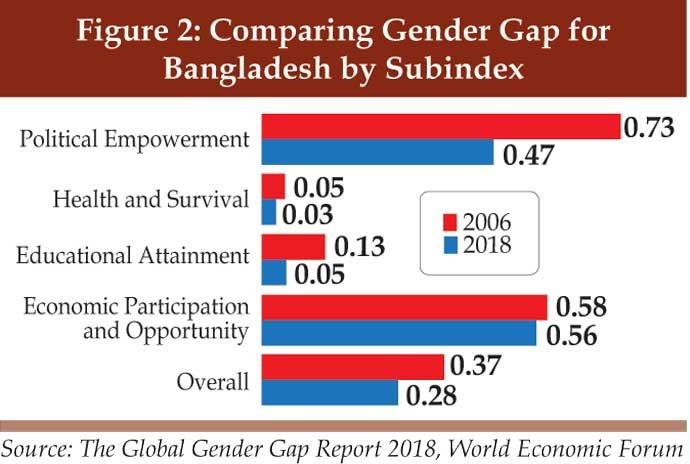 Bangladesh is constantly emphasising gender-responsive policies and strategies in order to encourage women to participate more in economic activities and improve the overall gender equality scenario. The goals to protect women's rights are visibly articulated in the policy documents of government such as the 7th Five Year Plan (FYP). The framework for women's empowerment and gender equality in the 7th FYP comprises four areas of strategic objectives. They are improving women's human capacities, increasing women's economic benefit, enhancing women's voice and agency, and creating an enabling environment for women's advancement. In recent years, one of the significant initiatives taken by the government is gender-sensitive budget. Aligned with the core objectives of the 7th FYP, the gender budget aims to increase access to human development opportunities; enhance access to increase participation and decision making; establish a conducive legal and regulatory environment; improve institutional capacity, accountability and oversight; boost protection and resilience from crisis and shocks; and promote positive social norms. The allocation for women development under the umbrella of gender budget in the national budget was Tk 272.48 billion (27,248 crore) in fiscal year 2009-10, which has increased to Tk 1612.47 billion (1,61,247 crore) in the budget for fiscal year 2019-20. The allocation for gender budget for fiscal year 2019-20 is 30.8 per cent of total budget and 5.6 per cent of GDP (Finance Division, June 2019). Depending on the proper implementation of projects, strong monitoring and evaluation of projects, coordination among ministries and minimum leakage, the gender-focused budget allocation should help narrow down the gender gap against the backdrop of prevalent patriarchy and denigrated position of women.
Bangladesh has managed to cut infant mortality, boost life expectancy, improve female health and education, and limit violence against women. It has seen positive trends in women's participation in economic life, politics and decision-making. Despite the progress made until now, the educational gains achieved by women have yet to translate into greater empowerment and participation of women in social and economic life. Discriminatory practices, social barriers and insufficient institutional protections continue to prevent women from making headway.
Bangladesh needs to undertake focused policies and programmes targeting the issues that stand in the way of ensuring equality between men and women. The country requires a comprehensive plan to reduce the problems women face in workplace. Considering the forthcoming challenges of labour market, skills development of females must be prioritised in national plans. The women who are disabled, minority, adibashi, tribal etc. should get special attention in terms of training, allowance, etc. There should be more allocation to incentives and promote young female entrepreneurs. Overall, policies have to be carried out with a view to obtaining the goal of gender equality.
Zubayer Hossen, Research Economist, SANEM. Email: zubayerhossen14@gmail.com and Mir Ashrafun Nahar, Research Associate, SANEM. Email: mirasha974@gmail.com