A language movement veteran goes unrecognised even after 66 years
---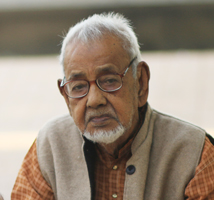 Khan Ziaul Hoque
MAGURA, Feb 20: Language veterans are yet to get state recognition even after 66 years of language movement. This is unfortunate told language veteran Khan Ziaul Hoque of Magura.
Expressing regret Ziaul Hoque told, most of language veterans of the country have already been expired, Those who are still alive are burdened with oldness . But language veterans in the country are yet to get state recognition.
Ziaul Hoque is the son of late Abul Kashem Khan of village Vina in Magura. In 1952 Ziaul Hoque was elected general secretary of Jessore M.M college students cabinate. He organised language movement in the college. He was then in the politics of Muslim Chhatra League. But as Muslim League leaders did not like his activity over language movement, he resigned from Muslim Chhatra League after police fire on procession of language movement in Dhaka city on February 21.
Ziaul Hoque returned to his own town Magura and organized a meeting protesting police fire on February 21. He along with Nasirul Islam Abu Mian , Chandu Mian and Jalil Khan arranged a meeting at Shegun Bagicha area of Magura town on February 22. When they tried to go towards Chourongi square of Magura town with a procession police charged baton and dispersed the procession. Police arrested Ziaul Hoque and Chandu Mian from the procession.
When contacted Khan Ziaul Hoque told Bangladesh became independent through a liberation war in 1971. The spirit of language movement encouraged the nation to fight for independence in 1971. But language veterans are still ignored.
Expressing regret Khan Ziaul Hoque said, "I have crossed 90 years and I am waiting for death. I have nothing to want as a language veteran during my lifetime, but I desire to be buried with a state honour."
---
---
---
---