---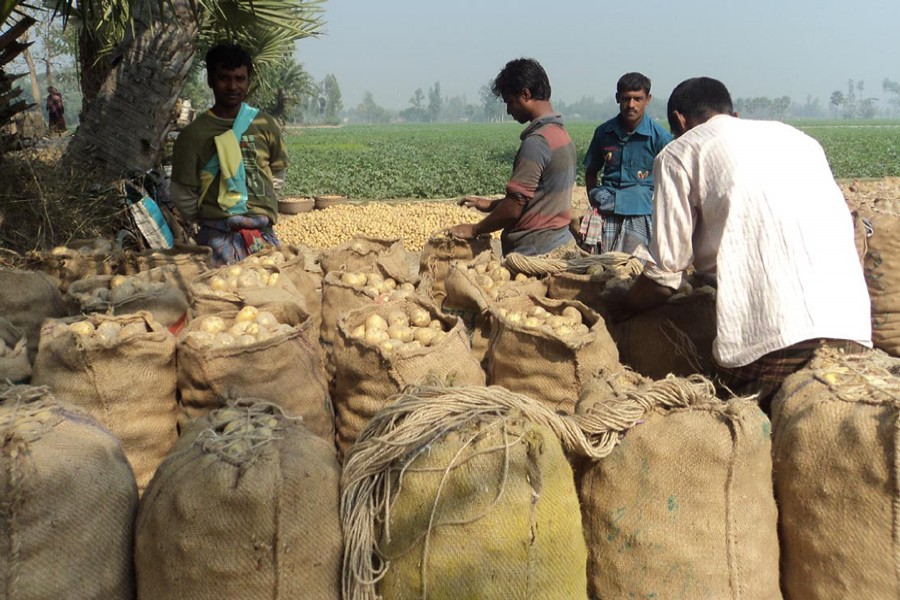 JOYPURHAT: Cultivators fill sacks with the newly-harvested granula potato for sale in the local kitchen market in Madipukur village under Akkelpur upazila. The photo was taken on Wednesday. — FE Photo
JOYPURHAT, Jan 17: Cultivators of granula potato, a short duration and high yielding variety, are making a good profit this season due to the good market price.
Farmers of the district have started harvesting the crop from the first week of the current month. They are satisfied over the profuse production and satisfactory market rate.
Wholesalers across the district and other neighbouring areas visit Panchbibi, Khetlal, Akkelpur, Kalai and Sadar upazilas regularly to purchase the item. Each maund of potato is being sold at Tk 1000 to Tk 1100 in the retail market, while the wholesale rate is Tk 900 to Tk 1000 in the local kitchen markets.
"I have cultivated granula potato on two bighas of land spending Tk 14,000 this season," said farmer Eazanur Rahman of Keshobpur village under Panchbibi upazila. He again said, "I have already harvested some 34 decimals of land and got over 40 maunds of yield and sold them at Tk 40,000."
The DAE has provided all necessary support to the poor and marginal farmers of the remote villages, said sub-assistance agriculture officer Azizur Rahman.
Granula potato farming is gaining momentum across the district for its high production rate. Minimum 50 to 60 maunds of yield can be achieved from a bigh of land, said farmer Shahadat Hossain of Madipukur village under Akkelpur upazila.
Deputy director of DAE Shudhindranath Roy said potato growers have shown more interest to cultivate the variety for its high output and market price.
Meanwhile, BSS adds: In Jamalpur, the DAE officials are expecting a bumper production of potatoes in the district during this Robi season.
According to Department of Agriculture Extension (DAE) office sources, the yield of potatoes might exceed 0.1 million tonnes against the 94,600 tonnes from 4730 hectares of land.
DAE office said favourable weather, using of balance fertiliser and in absence of cold injury, one kind of disease which infects the potato plants, could give the bumper production.
Additional deputy director, DAE, Saiful Azam Khan said 1300 hectares of land have been brought under potato cultivation with a production target of 26,000 toinnes in Jamalpur Sadar.
Beside, 420 hectares with a production target of 8400 tonnes in Sarishabari, 470 hectares with a production target of 9400 tonnes in Melandah, 500 hectares with a production target of 10,000 tonnes in Islampur, 230 hectares with a production target of 4600 tonnes in Dewanganj, 310 hectares with a production target of 6200 tonnes in Madarganj and 1500 hectares with a production target of 30,000 tonnes in Bakshiganj upazila.
Agriculture officials are counseling farmers for good yield of potato and encouraging farmers to set up light trap in their fields to kill insecticides without using chemical pesticide, Khan added. The farmers in the district will start harvesting potato from mid February next.