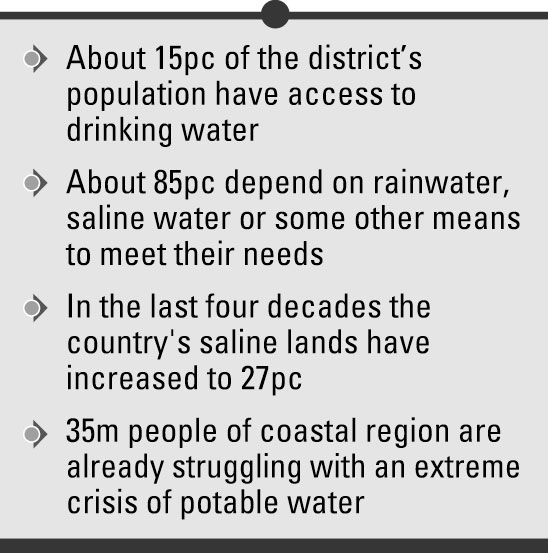 BAGERHAT, Oct 13 (UNB): Rozina Begum's tin-roofed house in Uttar Chandpai village in Mongla upazila is surrounded by water on three sides. Yet excessive salinity has rendered the water unfit for use in cooking or drinking.
Every day middle-aged Rozina walks three kilometres from her home to fetch water from a river even for cooking the family's meals. And she has to buy saline-free drinking water.
She said her poor family also spends up to Tk 30 to 40 to collect the day's drinking water. Rozina's neighbours Fuljaan Bibi, Khalil Mia, Haoa Begum, Mukul Molla and Dulal Sheikh have similar tales of water woes to share. An invasion of saline sea water has made the sweet water in ponds, canals and other water bodies of the district's coastal villages unfit for any use.
Up to 85 per cent of the district's population have now little access to sweet drinking water, according to studies. Diseases related to long-time excessive use of saline water have also become a big problem.
A merely lucky 15 per cent of the population of 1,33,292 in Mongla upazila have access to drinking water while about 85 per cent depend on rainwater, saline water or some other means to meet their needs, said Jayanta.
Bangladesh is one of the world's most vulnerable countries to climate changes. With 85 per cent of people devoid of safe drinking water, the riverine and coastal Mongla upazila in Bagerhat district is bearing the brunt of the problem.
According to researchers, salinity in river and underground water of coastal regions in Bangladesh is increasing with the rise of sea level. In Mongla point of the Pashur river salinity was measured at 2 PPT (parts per thousand) in 1962 which in 2008 increased ten times and measured 20 PPT.
The increasing salinity in water has risked the agriculture, health, livelihoods in this region. In the last four decades the country's saline lands have increased to 27 per cent. Meanwhile, 35 million (3.50 crore) people of coastal region in Bangladesh are already struggling with an extreme crisis of potable water as their fight with frequent storms, tidal bore and cyclones continues.