---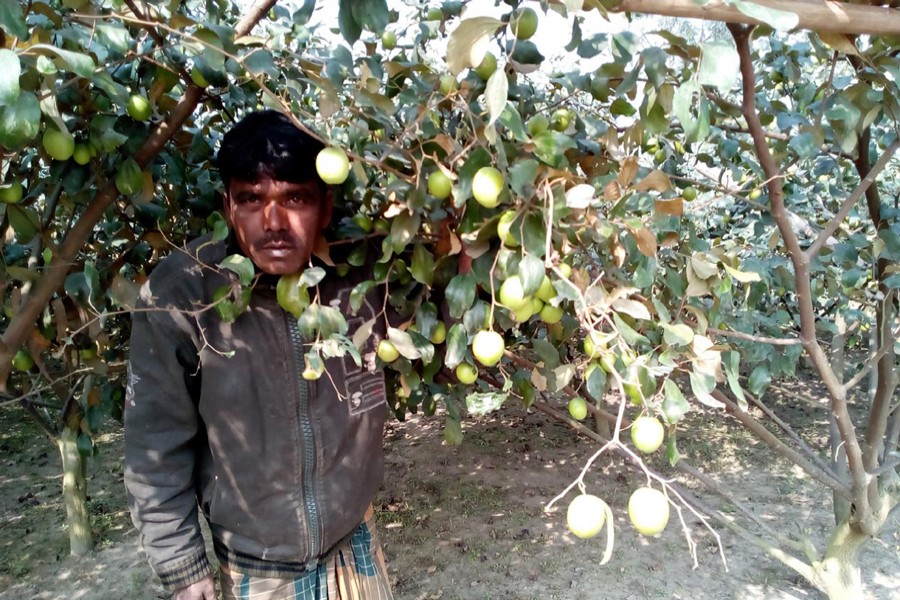 An apple kul grower shows off his produce in Shibganj upazila of Bogra on Wednesday. — FE Photo
BOGRA, Jan 17: Plum cultivation is gaining popularity across the district. A good number of peasants have become self-reliant by growing apple kul commercially over the last few years.
Sources said farmers of Kahaloo, Adamdighi, Dupchanchia, Shibganj, Sherpur, Sonatola, Sariakandi, Nandigram, Shajahanpur and Sadar upazilas have expanded the farming of the fruit and getting a good yield.
To produce a maund of quality apple kul, farmers have to spend Tk 300 to Tk 400, the market rate of the same amount Tk 1200 to Tk 1300 in the local market.
Sapling of an apple kul is sold at Tk 20 at the local nursery. Urea, phosphate, potash and other organic fartilsers are necessary to grow the saplings.
Sub-assistance agriculture officer Faridur Rahman said, "We provide all sort of agri-based support including fartilser to the plum growers. Cultivators should increase the farming for more profit."
reporter.fe@gmail.com
---
---
---
---