---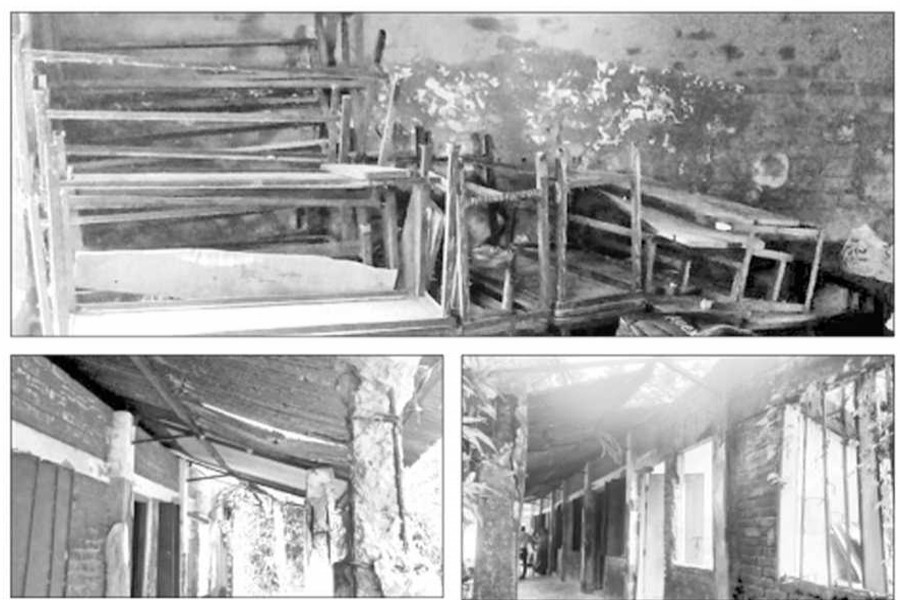 The dilapidated condition of Chandpur's Neej Gachhtola Govt Primary School's wall (top), tin roof (bottom left) and window (right) — FE Photos
CHANDPUR, Oct 08: The students of a school in the district are attending classes amid fear as cracks have been found in the building of the institution.
Constructed in 1996, the building of Neej Gachhtola Government Primary School in Sadar upazila may collapse anytime, said locals.
The tin-roofed building is posing life threat to schoolchildren since pillars and beams of the ceiling are being chipped off, they added.
Visiting the school recently, this correspondent found the allegations to be true.
Abdus Salam, another guardian, said, "The school building is not very old. But its classrooms are now in deplorable condition. I demand investigation be made and action be taken against the contractors of the building."
However, classes are going on inside the building, he added.
Khodeza Begum, mother of a schoolchild, said, "We remain worried after sending our children to the school."
Headmaster of the school Hafsa Begum said that the situation turns terrible during the rainy season since rainwater leaks through the roof and falls on the students.
She said, "We've informed the higher authorities several times about the matter. In 2017, the authorities sanctioned a new academic building for the school. However, the construction work has not yet begun."
School Managing Committee President Masudur Rahman said, "The building had some issues. However, they have been resolved. We are now hopeful of seeing the construction to start."
More than 150 students study in this school. A total of five teachers take classes.