Students get class routines from district police super
---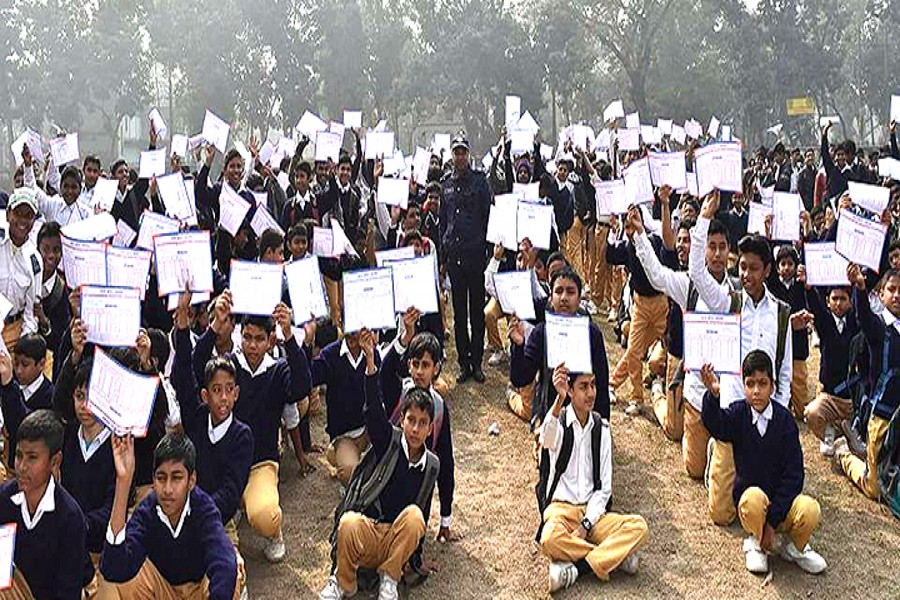 GAIBANDHA: Students of Gaibandha Government Boys' High School hold their class routines as they received those from the district police super on Wednesday. — FE Photo
GAIBANDHA, Jan 17: A total of 1000 students of Gaibandha Govt. Boys' High School received class routines from the district police on Wednesday amid much enthusiasm and festivity.
Superintendent of police (SP) Mashrukur Rahman Khaled distributed the class routine to the students of the school on Wednesday during their assembly to inspire them in study.
Apart from it, a number of calendars of 2018 were also given to the head teachers to distribute it to the teachers and the employees of the school from the police department, sources said.
Speaking on the occasion, SP Mashrukur Rahman Khaled in his speeches asked the students to be more serious in study and make good results in all exams to be worthy citizens of the country and face the challenges of the 21st century.
The SP also urged the teachers of the school to discharge their duties with sincerity and honesty and provide quality teaching to the students in a bid to turn the school into meritorious students producing centre so that they could lead the nation in future.
Assistant police super (ASP) M Asaduzzaman, head teacher Sahana Banu, officer in charge of Sadar Police Station Khan M Shahriar and teachers attended the function.
Talking to the correspondent, ASP (Headquarters) M. Asaduzzaman said the district police took a decision to disburse around 15,000 class routines to the students of different schools of the district this year.
The people from all walks of life including the guardians of the students lauded the class routine disbursement activity by the district police to the learners of the school.
sarker.fe.gai1971@gmail.com
---
---
---
---