The newcomer Asian Infrastructure Investment Bank (AIIB) has emerged as one of the important multilateral institutions contributing to the Bangladesh's development efforts, as the latter is now the fifth largest recipient of the bank fund.
Currently, the Beijing-based AIIB's portfolio of development aid in Bangladesh stands at US$2.78 billion for 12 ongoing projects since its establishment in 2016, Economic Relations Division (ERD) data show.
A senior ERD official says the AIIB has recently reviewed projects it is funding in Bangladesh for expediting their implementation.
'We have been receiving extended amount of funds from the AIIB every year. The Beijing-based lender has also assured us of more assistance against different upcoming development projects," the ERD official told the FE Saturday.
He noted that currently Bangladesh has been placed as the 5th-largest borrower from the AIIB--one of the financial and cooperation organisations China is building under its flagship global development recipe styled BRI or Belt and Road Initiative.
Besides, another dollop of some $4.4 billion worth of funds is in the pipeline for confirmation by the AIIB in the coming days for Bangladesh.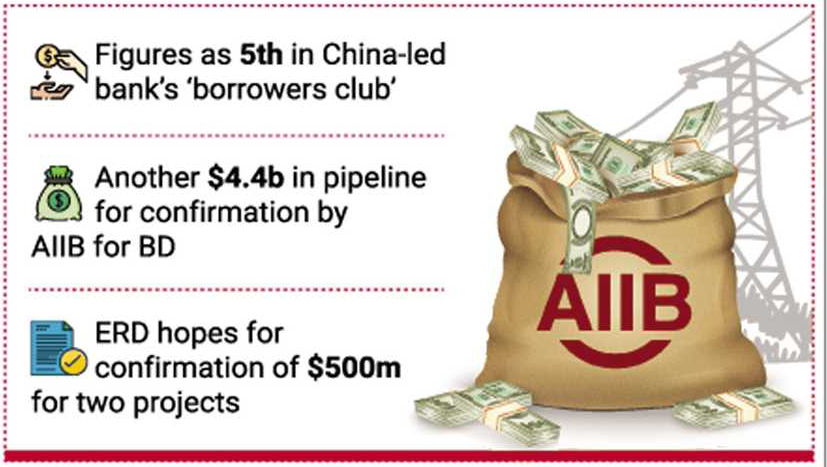 India happens to be the largest borrower from the up-and-coming Asian bank, followed by China, Turkey and Indonesia.
"We are discussing with AIIB ways of getting budgetary support and project aid in the coming days. The Beijing-based lender is positive to our requests," says another ERD official.
He mentioned that the AIIB has already disbursed $250 million in budget-support credit as a co-financer with the Asian Development Bank (ADB) to help the country weather the impact of the Covid-19 pandemic on the national economy.
"We are expecting to go for negotiation on a $300-million loan for the 'Integrated water supply and sanitation in selected towns project' and a 200-million loan for the 'Bangladesh city inclusive sanitation programme in 25 towns project'," the ERD official said.
He expects confirmation of $500 million in loan for both the projects within this fiscal year.
Meanwhile, the second-largest shareholder, India, is AIIB's largest borrower as it got confirmation of US$8.1 billion (about 24 per cent of AIIB's total portfolio) against different projects.
The China-led bank has confirmed $3.16 billion worth of assistance for China, $3.15 billion for Turkey and $2.9 billion for Indonesia as of March this year.
The AIIB, a multilateral development bank, began operations in Beijing in January 2016.
Till July this year, the AIIB had developed a portfolio of 181 projects in 33 member-countries with a total amount of $35.7 billion.