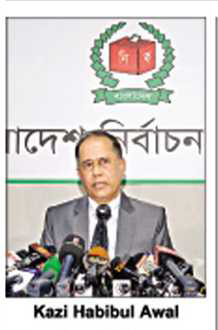 Chief Election Commi-ssioner Kazi Habibul Awal on Saturday asked deputy commissioners and superintendents of police to be aware of their duties to deal with any intimidation in the next general elections expected to be held late next year or in the beginning of 2024, reports UNB.
"If any illegal interferences in the election are not handled with an iron hand, that's not an election, that's a farce," he said.
"This could have a serious negative impact on the next election. You must be accountable. So, in the future, you will exercise all the necessary powers to successfully conduct each election," he said.
His statement came when the Election Commission held a meeting with deputy commissioners and superintendents of police from across the country on Saturday to discuss issues related to next general elections.
The meeting was crucial to build up momentum ahead of the next national elections amid threats by BNP and its allies that they will not take part in the elections under a partisan government. But the government has been arguing
that there is no such provision in the constitution of returning to a controversial caretaker government system to oversee the elections. The previous caretaker government system was nullified through the 15th amendment to the constitution in 2011 after the Supreme Court struck down the 13th amendment that had introduced the system in 1996.
On Thursday, Prime Minister Sheikh Hasina urged all political parties to join the national elections.
Saturday's meeting was held at the auditorium of the Election Commission in the capital city, Dhaka.
The CEC in the meeting said that a stricter stand by the DCs and the SPs would reinforce the people's interest and trust in the electoral process, encouraging them to exercise their voting rights. Next elections to local government bodies also came up in the discussion.
The CEC reminded the DCs and SPs of avoiding their own political ideologies when they play their role. "You are public servants," he said.
"You will have to be neutral in your position. You must follow your duty according to the laws of the land. This is the expectation of the people. You have to earn trust by fulfilling the expectations of the people with the application of all rules and regulations," he added.
The CEC also said it is not the issue of the Election Commission to resolve disputes among bickering political parties.
"The EC cannot interfere in the political decisions as the constitution, laws and rules have set our scope of work, power and responsibilities. Political problems should be settled politically," he said.
He also said the DCs and SPs must understand the importance of forming new national government and local government bodies through elections in a democratic system.
Other election commissioners and top officials from the Ministry of Home Affairs and the Additional IGP attended the meeting.