---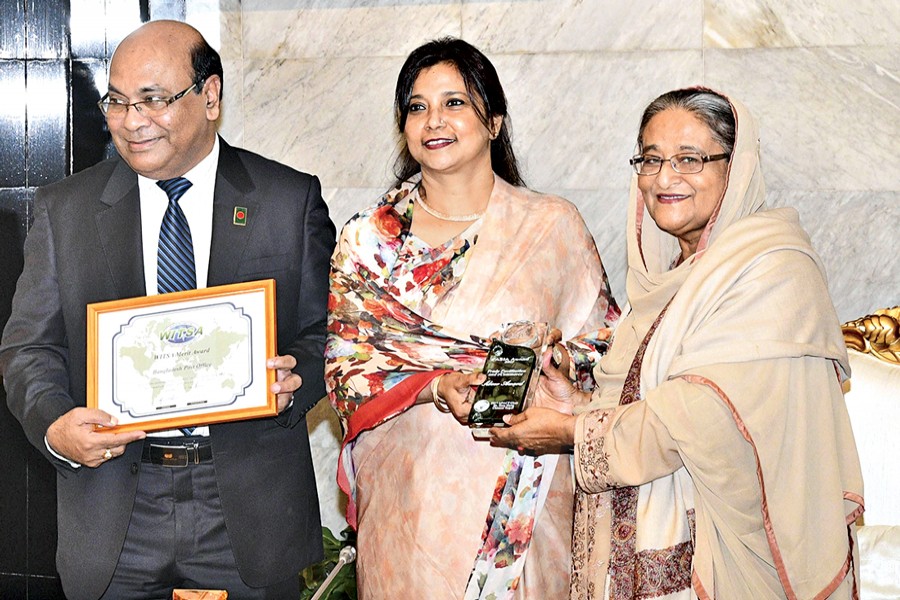 Prime Minister Sheikh Hasina receives a trophy from State Minister for Posts and Telecommunications Tarana Halim at PMO in the capital on Monday. — Focus Bangla
Prime Minister Sheikh Hasina Monday received "ASOCIO-2017 Digital Government Award", reports BSS.
State Minister for Post and Telecommunications Tarana Halim handed over the award to the Prime Minister at the beginning of the regular cabinet meeting held at the Prime Minister's Office Monday morning.
Bangladesh Postal Department has been awarded with "ASOCIO-2017 Digital Government Award" of Asian-Oceanian Computing Industry Organization (ASOCIO) in Malaysia in recognition to reaching multidimensional digital services to the rural people.
Tarana received the award from the ASOCIO chairman on September 18 last.
ASOCIO was established in 1983 involving the National ICT Associations of 24 countries of Asia and Oceania region. The organisation gives awards in four categories each year.
The Prime Minister also received "Silver Award" of Asia-Pacific Council for Trade Facilitation and Electronic Business (AFACT) and "WITSA Merit Award" of The World Information Technology Services Alliance (WITSA) from Tarana Halim on the day.
Bangladesh Postal Department got the "Silver Award" of the AFACT as runners up in the eAsia Award Competition for its eCommerce-related service "Postal Cash Card: Banking for Unbanked People."
The award was given on September 12 in Taiwan. The AFACT is giving eAsia Award every year for the initiative for bridging digital divide.
On the same day in Taiwan, the WITSA awarded Bangladesh Postal Department with "WITSA Merit Award "for transforming 8500 post offices of Bangladesh into e-centers.
WITSA is the leading organisation of IT Industries and currently 80 countries are its members, while nearly 90 per cent of the world IT market represent to those countries. The organisation is giving awards in eight categories each year.
---
---
---
---