---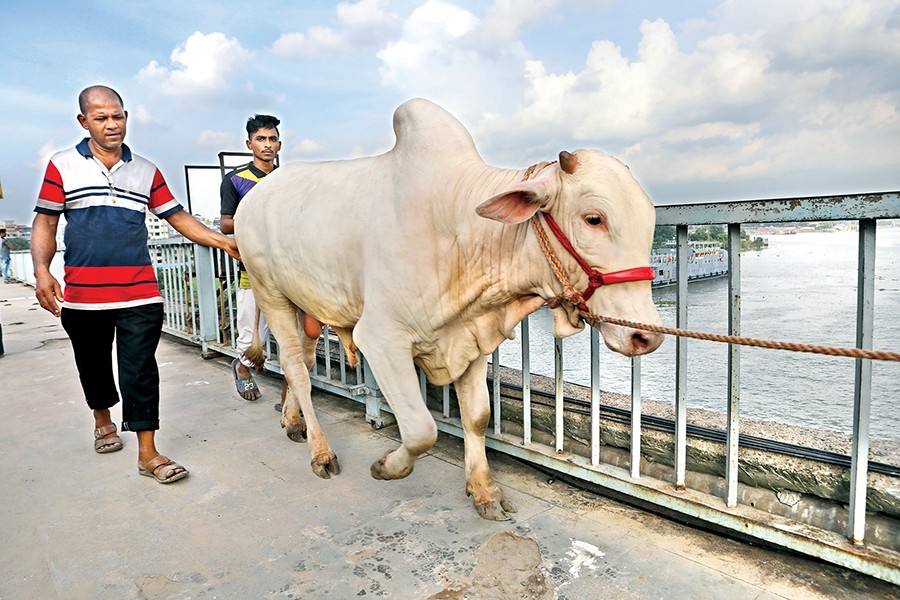 A man taking home a sacrificial animal after buying it from a cattle market in the capital on Saturday. The photo was taken from Buriganga Bridge at Postagola — FE Photo
The sale of sacrificial animals at cattle markets in Dhaka picked up on Saturday with a day left for Eid-ul-Azha festival of Muslims.
However, buyers blamed cattle traders for asking excessive prices for their cattle, but traders are in fear of incurring losses claiming 'poor presence' of potential purchasers.
According to both buyers and traders, the supply of big-sized cows is ample against a relatively lower demand.
Again, the availability of small and medium-sized cows is a bit scarce that is said to have raised the rates of such animals.
Trader Monir Hossain came to Jinjira cattle market from Singair of Manikganj with eight medium-sized oxen on Friday.
"I've so far sold a single bull at Tk 110,000. Customers offer prices far below my rearing costs," he told the FE.
"If the situation remains unchanged for the day, it will be very disastrous for me," Mr Hossain said.
At the market, a government official was seen taking away an ox along his two sons.
When asked, public servant Shahin Kamal said cattle prices are too higher.
"I bought this bull at Tk 95,500 but the price of the same-sized ox was between Tk 65,000 and Tk 75,000 last year," he said.
Mohammad Aslam, a hasil (tax) collector at the market, said the sale of sacrificial animals has not started in a full swing yet.
"Only 20 animals were sold till 3:30 pm (Saturday). We hope for increased sales from this evening," he added.
Meanwhile, several buyers at Aftabnagar market accused traders of asking no less than Tk 80,000 even for a small cow weighing 80-100 kilograms.
However, they also said there are plenty of big sized oxen in the market but these are beyond the range of middle class.
Businessman Al-Amin, who bought an ox for Tk 315,000 from the cattle market, said, "I bought the same-sized ox at Tk 280,000 last year."
Asked whether he is satisfied with this year's price, he said, "It's about sacrificing an animal for religious purpose, but the price could be a bit reasonable."
Mohammad Masum, a trader from Tangail, brought 67 cows to Aftabnagar, said many entrepreneurs throughout the country have entered the cow-fattening business in the past couple of years.
For this reason, cattle markets are glutted with big, healthy cows that deserve higher prices, he added.
"The supply of small cows is less than usual which might raise cattle prices," Mr Masum told the FE.
According to livestock department, more than 11.70 million cattle, including cow, bull, buffalo, goat and sheep, are up for sale this Eid.
Last year, there were 11.50-million cattle in the market. Of them, 10.50 million were sacrificed.
This year, a total of 24 cattle markets have been set up here-23 temporary and one permanent at Gabtoli.
Of them, 14 are within the jurisdiction of Dhaka South City Corporation and 10 under Dhaka North City Corporation.
ahb_mcj2009@yahoo.com