FE REPORT
At least 76 per cent of the university students in the country are suffering from some sort of depression due to study pressure, addiction to electronic devices, and post-pandemic stress, a survey revealed on Saturday.
Such high rate of depression has been increasing the risk of suicide among the country's youths, it also noted.
The findings of the survey titled "The Suicidal Propensity of University Students and The Impact of Academic Pressure on Their Mental Health", conducted by Aachal Foundation, were presented at a virtual press conference on the day.
Professor (retired) of the Department of Clinical Psychology of the University of Dhaka Dr Mohammad Mahmudur Rahman, Assistant Professor of Education and Research Institute of Jagannath University Md Shahnewaz Khan Chandan, and Aachol Foundation Founding President Tansen Rose spoke at the event.
The adverse impact on mental health of these students is mainly fuelled by post-pandemic study pressure, despair, prolonged student life caused by session congestion, etc.
The survey noted that at least 404 students committed suicide in nine months (Jan-Sept) of the current year in the country of which 57 are university students, 219 are school students, 44 are madrasa students, and 84 are college students.
In terms of gender, 242 were female students and 162 were male students.
In the contrary, during the 15 months (March, 2020 to May 2021) of the pandemic, about 151 students took their own lives.
A total of 1,630 students from 38 public universities, 47 private universities, madrasas and colleges under the National University participated in the survey.
Among the surveyed students, at least 40 students expressed that they have tried or collected ingredients to commit suicide but stepped back at the last moment.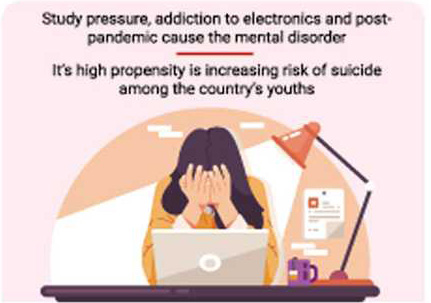 The survey observed that around 77 per cent of the students fall into acute pressure following opening of educational institutions after the pandemic due to shortened class time with excessive syllabus.
Of the total participants, 57.99 per cent of the students reported that excessive fear and anxiety about their own physical and mental health had affected their lives.
In addition, 80.79 per cent of the students reported changes in their daily behaviour, such as depression, sudden tiredness, etc have affected their educational life.
About 70.73 per cent of the students admitted their addiction to digital or electronic devices like mobiles, laptops, desktops that have negative impact on academic life.
Again, due to mental problems, changes in daily sleep habits such as excessive sleep or sleeplessness are having a negative impact on different stages of the education life of 71.71 per cent of the students.
Nearly 47.50 per cent of the students said personality changes such as sudden silence, self-indulgence, tendency to become extroverted or introverted are also affecting the academic life to a great extent.
Aachol Foundation also made some proposals to reduce psychological pressure on the students -- creating normal and informal relationships between teachers and students, reducing the extra syllabus and complete the examination on time, making study enjoyable and realistic, reforming education system to make it job-market oriented, introducing education loans, appointing psychologists in universities urgently, organising regular meetings and seminars on mental health awareness, etc.