---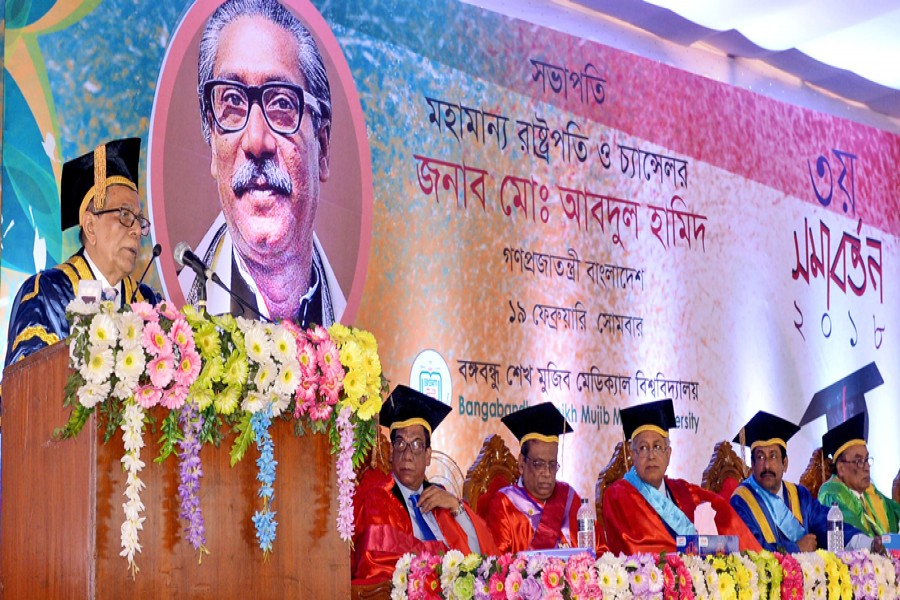 President Md. Abdul Hamid addresses the third convocation of Bangabandhu Sheikh Mujib Medical University (BSMMU) at Shahbagh in the city on Monday. — PID Photo
President Abdul Hamid asked the physicians to consider the ability of common people while providing treatment so that no patient is deprived of getting proper treatment due to lack of money, reports UNB.
He also asked the physicians to perform their professional responsibilities with the attitude of providing service.
The President made the call while addressing the third convocation of Bangabandhu Sheikh Mujib Medical University (BSMMU) at Shahbag in the city on Monday.
About media report regarding alleged wrong treatment, President Abdul Hamid said in some cases it is being seen that people become victims of various harassments. "You have to remain alert so that reputation of great profession like physicians is not tarnished for dishonesty of a few people," he said.
The President, who is also Chancellor of the University, said although the doctor-population ratio is not in right proportion in the country, the physicians should try their level best so that nobody is deprived of getting health care service.
Mentioning that medicine and treatment methods are being modernised day by day in the country, he urged the physicians to be more knowledgeable with the latest invention and technologies to attain people's confidence in the local doctors and treatment facilities.
The President also suggested for introducing e-service using the modern information technology to reach treatment facilities at the doorstep of grassroots.
About the export income from Bangladesh-produced medicines, Abdul Hamid further urged medical scientists, physicians and researchers to uphold the image by putting continued efforts in this connection.
He mentioned that the nature and type of diseases are different in respect of country and region as well as it could be changed because of climate change.
"Medical education and research will have to be conducted taking all these issues under consideration."
The President also put emphasis on creating awareness about maintaining healthy life to help reduce the curable diseases.
He congratulated the new graduates and advised them to work for the country and its people by providing respective merits, talents, treatment and valuable advice.
Recalling the role of nurses in medical sector, President Hamid stressed the need for imparting training and higher degrees in the BSMMU as they can contribute to the mankind.
On the occasion, seven expert physicians were given PhD degree for their outstanding contribution in this sector while six students got gold medals award for their outstanding academic results.
Health and Family Welfare Minister Mohammed Nasim, Education Minister Nurul Islam Nahid, Convocation Speaker Prof AHM Towhidul Anower Chowdhury, Bangladesh University Grants Commission (UGC) Chairman Prof Abdul Mannan and BSMMU Vice-Chancellor Professor Dr Kamrul Hasan Khan also spoke.