---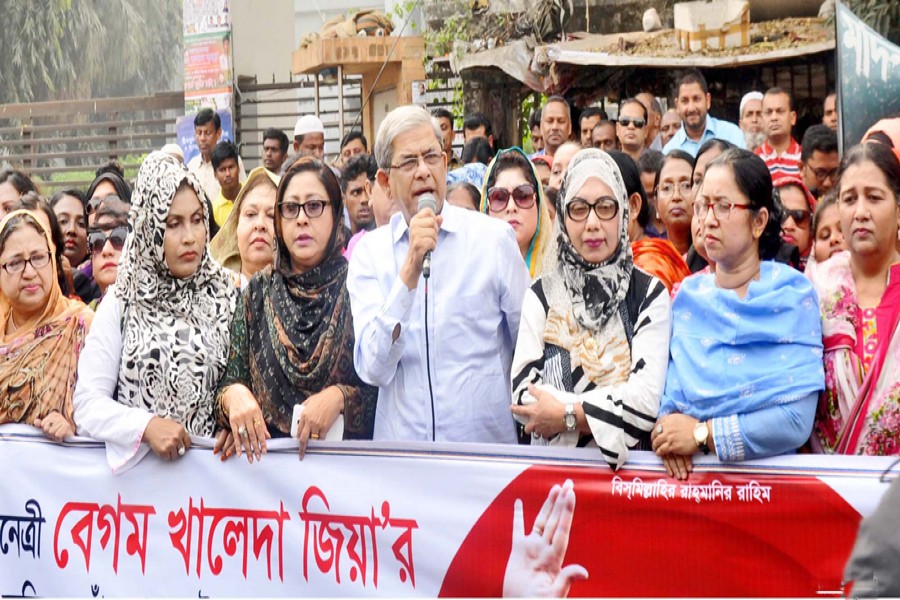 BNP Secretary General Mirza Fakhrul Islam Alamgir speaks at a human chain programme organised by Jatiyatabadi Mohila Dal in front of Jatiya Press Club in the city on Monday demanding party chairperson Khaleda Zia's release. — Focus Bangla
BNP Secretary General Mirza Fakhrul Islam Alamgir alleged on Monday that their chairperson Khaleda Zia is being deprived of minimum lawful facilities in jail, reports UNB.
"The government has convicted our leader (Khaleda) unfairly by completely politicising the judiciary. They're now depriving her of minimum lawful facilities in jail," he said.
The BNP leader came up with the allegation while speaking at a human chain arranged by Jatiyatabadi Mohila Dal in front of the Jatiya Press Club demanding Khaleda's release.
Fakhrul said though a certified copy of the verdict against their chairperson had been possible within five working days, it was not provided yet. "She (Khaleda) has been kept in solitary confinement in jail violating the country's existing law."
Mentioning that Khaleda Zia and democracy are 'interlinked', he called upon people to put in their best efforts to free her from jail. "Let's be vocal demanding her release. We must force the government to free her from jail through a movement."
---
---
---
---