---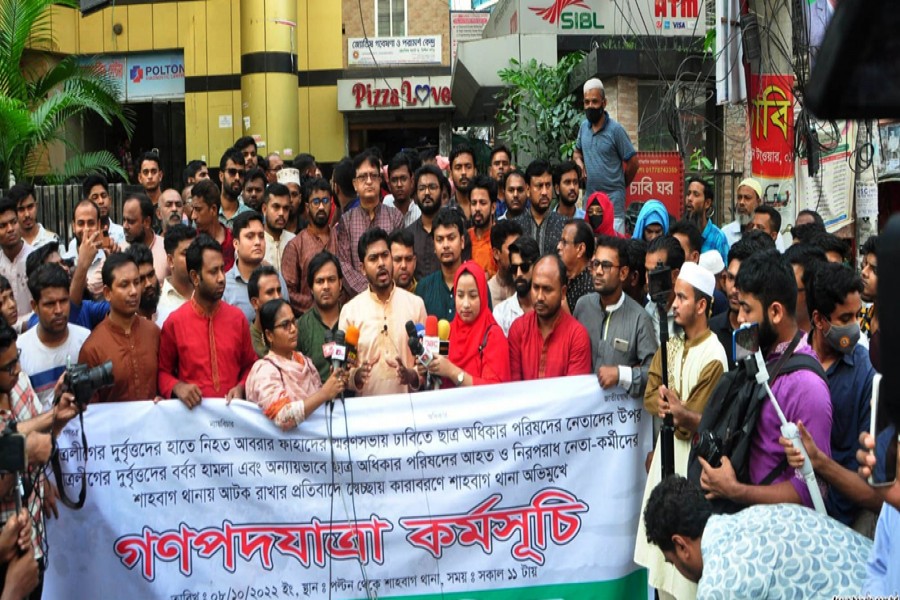 Nurul Haque Nur, former DUCSU VP, led a protest march from the city's Paltan area to the Old Dhaka court premises on Saturday, demanding release of the arrested activists of the Students' Rights Council — Focus Bangla
The Students' Rights Council has vowed to escalate protests if 22 of its activists are not freed from jail, reports bdnews24.com.
Nurul Haque Nur, former vice president of of Dhaka University Students' Union, led a protest march from the group's offices in city's Paltan around 11 am on Saturday.
The group marched to the Old Dhaka court premises and then locked the gate. They then held a rally in front of the gate.
Nur, the member secretary of the group, said: "We have gathered on the court premises to demand justice. If the court delivers justice, we will leave. If not, we will voluntarily imprison ourselves."
The Students Rights Council gathered at the Raju Statue on the Dhaka University campus on Friday to commemorate the third anniversary of the murder of Abrar Fahad, a student from the Bangladesh University of Engineering and Technology. The rally was broken up by a Chhatra League attack.
When activists injured in the violence were taken to Dhaka Medical College Hospital, they were followed by Chhatra League members who caused unrest.
Afterwards, police arrested 22 activists of the Students Rights Council, including Dhaka University branch President Akhtar Hossain and its General Secretary Akram Hussein, and took them to Shahbagh Police Station.
"Is it a crime to mourn Abrar Fahad? Is it a crime to seek treatment after being attacked? If that is so, we are all criminals. Free my brothers. They were arrested without cause," Nur said at Saturday's rally.
The protest at the court gates ended an hour later.
"We have spoken to our lawyers and are ending our programme so as to not disrupt the environment on the court premises."
He warned of a 'strong response' if the group's 22 activists were not released within two days.
Though the Students' Rights Council has alleged that 22 of its activists were arrested, a total of 24 suspects were brought to court over the case filed by a Chhatra League leader, said Noor Mohammad, chief of Shahbagh Police Station.
"After yesterday's clashes, a Chhatra League leader named Md Nazim Uddin filed a case. Twenty-four people have been arrested in connection with the case and taken to the court."
Police say that Nazim Uddin, central organising secretary for the Chhatra League, was critically injured in clashes with the Students' Rights Council. A case was filed against 18 activists of the Students Rights Council on charges of attempted murder later that night.