Abandoned Dupchanchia post office building still serving people
OUR CORRESPONDENT | Sunday, 6 December 2020
---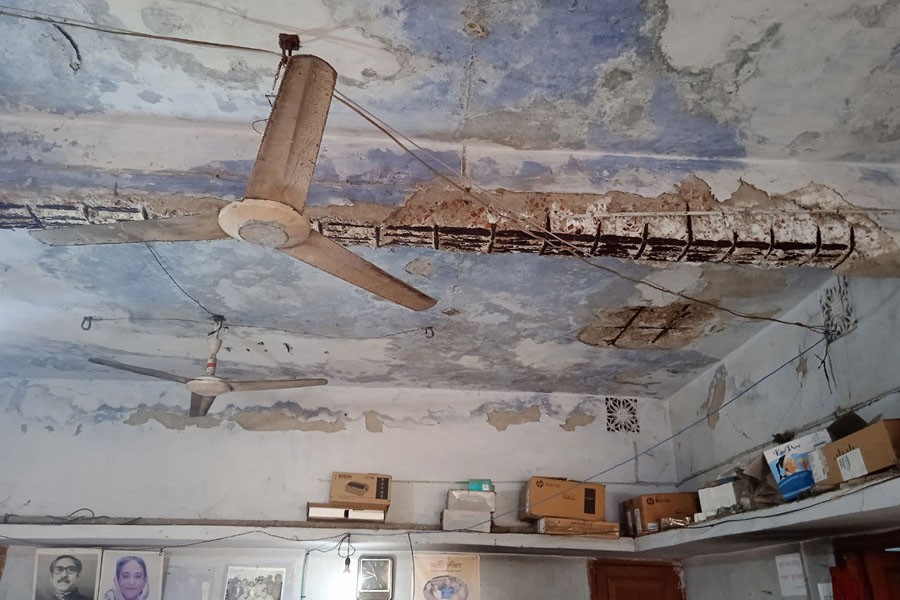 BOGURA, Dec 05: Members of the staff of Dupchanchia upazila post office, houesed in an old and dilapited building, are serving clients risking their lives as it may collapse any time.
The shabby three rooms of upazila post office have been declared abandoned but the officials are to use them as there is no alternative.
With officials of post office, a good number of clients of the region are performing their necessary work daily with fear of collapsing the building. Whenever they visit the dilapidated office building, they are seen worried.
Every day the clients come for making savings, term calculation (meyadi hisab), mobile money exchange, general money exchange and computer training.
The dilapidated state of the upazila post office has been causing extreme sufferings of the clients, said upazila post master Shamsun Nahar. The authorities concerned were informed of the present condition of the office and sufferings of officials and clients several times but to no effect, she added.
Huge cracks have developed on the roof. The officials have to face sufferings and unwanted accident due to the sorry state of the post office.
On a visit on Thursday this correspondent found plaster from both walls and roof have been faling down. The ceiling fans have been hung with dilapidated roof.
Besides, floor of the post office has been damaged and numerous holes were created and the authority concerned did not pay heed to the dilapidated condition and yet to take any step to construct a new building.
More than 20,000 clients of all six unions and two municipalities have been using the post office daily and they have to face untold sufferings.
A client Md Azim Uddin, coming from Paul para of municipality area, said he came to post office to send a letter to his friend. He fears to enter the room though he is to perform work, he added.
Deputy postmaster general of Bogura region Md Anwar Hossain said he knew the dilapidated condition of the post office and suffering of clients and officials. The tender for constructing a new building hs been floated, the work will be started very soon, he added.
Additional postmaster general of Rajshahi division Pervin Banu said they are trying to provide smooth citizen service round the clock but sometimes unexpected situation hinder the smooth serviceto clients.