AL observes 73rd founding anniv
Friday, 24 June 2022
---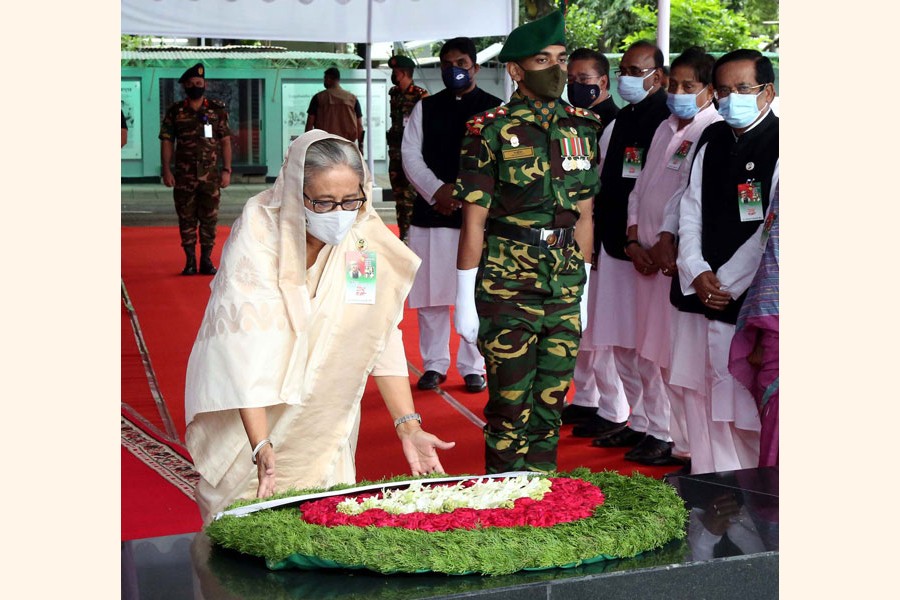 Bangladesh Awami League, which led the country's independence through the 1971 great Liberation War, celebrated its 73rd founding anniversary across the country in a befitting manner on Thursday, reports BSS.
The day's programme began with placing wreaths at the portrait of Father of the Nation Bangabandhu Sheikh Mujibur Rahman at city's Dhanmondi-32 in the morning.
Prime Minister Sheikh Hasina paid rich tributes to Bangabandhu by placing a wreath at his portrait on the premises of Bangabandhu Memorial Museum.
After placing the wreath, the PM stood in solemn silence for sometime as a mark of profound respect to the memory of Bangabandhu.
Later, flanked by senior party leaders, Sheikh Hasina, also President of the Awami League, paid tributes to Bangabandhu by placing another wreath at the portrait of the Father of the Nation on behalf of her party.
AL's Advisory Council Member Amir Hossain Amu, Presidium Members Begum Matia Chowdhury, Sheikh Fazlul Karim Selim, Mofazzal Hossain Chowdhury Maya (Bir Bikram), Jahangir Kabir Nanak, Abdur Rahman and AHM Khairuzzaman Liton, Joint General Secretaries Mahbubul Alam Hanif and Information and Broadcasting Minister Dr Hasan Mahmud, Organising Secretaries Ahmed Hossain and SM Kamal Hossain, Publicity and Publications Secretary Dr Abdus Sobhan Golap, among others, were present.
Since morning leaders and workers of the party and its affiliated bodies started thronging Dhanmondi-32 with holding banners and festoons and chanting slogans like 'Joy Bangla', 'Joy Bangabandhu', 'Shuvo Shuvo Shuvo Din, Awami League-er Jonmodin'.
To mark the anniversary, national and party flags were hoisted atop all party offices including the Bangabandhu Avenue central office in the city.
As part of the party's programme, Awami League Central Working Committee delegation led by Presidium Members Lt Col (retd) Muhammad Faruq Khan paid homage to Bangabandhu by placing a wreath at his mausoleum at Tungipara in Gopalganj at 10.30 am.