Alternative Trading Board to begin trades of non-listed stocks in Jan
Mohammad Mufazzel | Sunday, 4 December 2022
---
Over-the-counter trading of non-listed securities will come to an end with the Dhaka Stock Exchange's Alternative Trading Board (ATB) set in motion on January 1 next year.
The platform will allow investors -- both institutional and individual -- to transact non-listed and de-listed securities, corporate bonds, alternative investment funds and open-end MFs digitally through their BO (beneficiary owners) accounts.
That means the existing practice of purchases or selloffs of such securities at the offices of asset management companies is going to become obsolete, which will not only save investors time but also money. Currently, investors pay a 1-3 per cent premium on the purchase of units of non-listed securities, and sell those at 1-3 per cent discounts on the value of the assets.
The ATB will increase the brand value of non-listed securities, said M Shaifur Rahman Mazumdar, acting managing director of the DSE.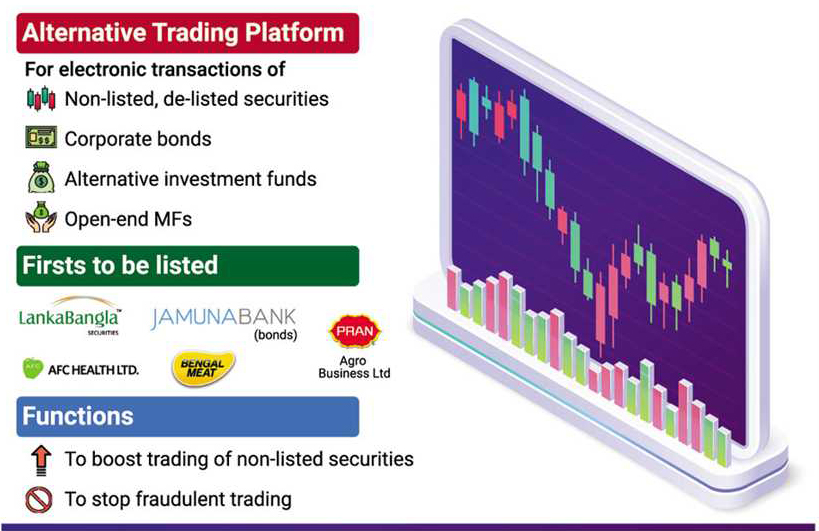 It is also believed to boost transactions of the securities, paving for strategic investors the way to get rid of their holdings when they want, while individual investors will get the chance to buy stakes of the non-listed companies, he said.
"Fraudulent activities around transferring ownerships of non-listed companies will decline after the launch of the ATB as transactions will be conducted digitally," Mr Mazumdar added.
DSE officials said non-listed securities were awaiting approval under the alternative trading rules formulated and brought into effect by Bangladesh Securities and Exchange Commission (BSEC) in March 2020.
Having the securities registered with the ATB, BSEC Chairman Shibli Rubayat Ul Islam will launch the trading on the platform.
There is no minimum capital requirement for non-listed companies to be traded on the ATB.
Any non-listed firm registered with the Registrar of Joint Stock Companies and Firms (RJSC) will be allowed on the board. But the platform will not be used to raise capital. Only shares will be exchanging hands in electronic form.
Investors will avail A+2 trading facility meaning they will be able to sell shares on the third day of purchase. They will also enjoy credit facility in purchasing units of open-end mutual funds.
The mandatory provision of disclosing price sensitive information (PSI) will be applicable to the securities on the board, but on a yearly basis.
As per the rules, a company will have to transfer up to 49 per cent of its stakes with 10 per cent transferred within the first month.
"The ATB will be an alternative channel for the distribution of the units of open-end mutual funds," said Shahidul Islam, chief executive officer of the VIPB Asset Management Companies.
Both investors and the MFs will benefit from the scope of purchase and selloff of units at the net asset value (NAV).
LankaBangla Securities having a paid-up capital of Tk 898 million has come forward to handover its stake through the ATB.
The leading brokerage firm had planned to go public before the 2010 stock market debacle. But finally the move was unsuccessful due to the exchange's unfavourable listing provision.
Now LankaBangla's listing with the ATB is at the final stage, said an official of the premier bourse. Like LankaBangla Securities, Bengal Meet, Jamuna Bank, AFC Health, and Pran Agro are also at the forefront of the queue.
DSE officials said LankaBangla Investment was working to begin transactions of three bonds on the ATB.
Mohammad Rezaul Karim, BSEC spokesperson, said un-listed and non-listed companies would get the opportunity of transferring securities with least amount of fees on the ATB.
The overall market capitalisation will broaden by the ATB and it will also help the economy grow in the long run.
The ATB will also allow negotiated deals between two parties outside the board.
[email protected]