Asset managers sweat with fear of scam-induced selling pressure
Mohammad Mufazzal | Thursday, 5 January 2023
---
The latest scam of Tk 1.57 billion by an asset manager came as a fresh blow to the mutual fund sector as a sense of insecurity is feared to prompt open-end unit holders to mount a liquidation pressure.
Fund manager LankaBangla Asset Management has already communicated its concerns to the Bangladesh Securities and Exchange Commission (BSEC) after the fund embezzlement made headlines, sources said.
"Scams definitely cause concerns in any industry," said Masum Ali, chief executive officer (CEO) of LankaBangla. But he refused to say if the sector was facing any backlash.
A top executive of Universal Financial Solutions (UFS), an asset management company, has recently fled the country with the money from four open-end MF units.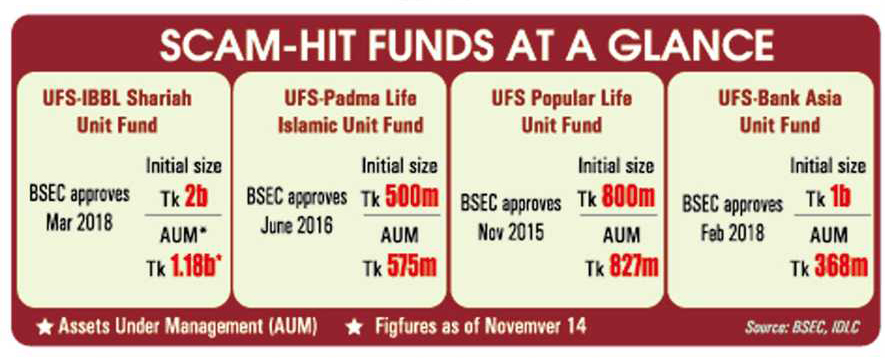 The funds managed by the UFS are UFS Popular Life Unit Fund, UFS-IBBL Shariah Unit Fund, UFS-Bank Asia Unit Fund, and UFS-Padma Life Islamic Unit Fund.
"This scam is a massive blow for the MF industry because the level of financial literacy of majority investors is very shallow," said Shahidul Islam, chief executive officer at VIPB Asset Management.
Unit holders should be able to distinguish fund managers for the safety of their investments, he added.
Apart from the UFS, the securities regulator is looking into some alleged mismatches in one or two more funds managed by Alliance Capital Asset Management.
An official of the asset manager said they had always duly submitted compliance reports to the commission.
MFs are required to inject at least 60 per cent of the funds into the capital market.
Due to unprofessional attitude of fund managers, the sector already faces a severe crisis of investors' confidence. Bangladesh remains at the bottom in the region when it comes to assets under management.
AUM in Bangladesh amount to only $ 1.6 billion while the figure is 6.3 billion in Pakistan, $ 22.8 billion in Vietnam, and $ 474 billion in India.
Open-end MFs had recently been gaining traction because of the scope of liquidation at any time at prices close to NAV. They are not traded on the stock exchange and so do not depend on the ups and downs of the market. On the other hand, units of close-end funds are sold at market prices.
Currently, most close-end MFs are traded at prices below their net asset value or even face value.
The popularity of open-end funds led to a sudden increase in such financial instruments to 84 in the last four years while the growth of close-end MFs stalled at 35.
Scams indicate the loopholes in the governing system, which can be exploited, said Ali Imam, chief executive officer at Edge AMC. Strict regulatory measures can hold all parties accountable, he added.
BSEC spokesperson Mohammad Rezaul Karim said investors' confidence had suffered a dent for "the time being".
The scams are under an investigation. Once it is completed the magnitude of the fraud will become clear, Mr Karim said, adding that the regulator would take punitive actions based on findings to restore the image.
Legacy of MFs
Before the 2010 stock market debacle, a bullish trend saw a surge of closed-end MFs.
After the debacle, the instruments were squeezed significantly due to the persistent erosion in the secondary market. The market prices of 32 out of 37 closed-end MFs are still below the face value of Tk 10.
The price erosion coupled by the extension of the tenure of closed-end MFs played a role in destroying investors' confidence, said experts.
The previous exchange commission extended the tenure saying that liquidation of the MFs would create a selling pressure in the market.
The introduction of RIU (re-investment unit) enhanced the management fees of asset managers, which depend on fund sizes.
Unit holders could realise their investments as per the NAV if the closed-end MFs were liquidated on the completion of their tenures. The time extension snatched away that opportunity from investors.
In the last few years, fund managers felt encouraged to form more open-end MFs, but the scam may force them to put any such move on hold.
[email protected]