Bangladesh signs $2.5b ODA deal with Japan
* PM urges Japanese investors to explore potential in newer areas in BD * Summit, Japan's Energy for New Era sign MoU on energy project
---
Thursday, 30 May 2019
---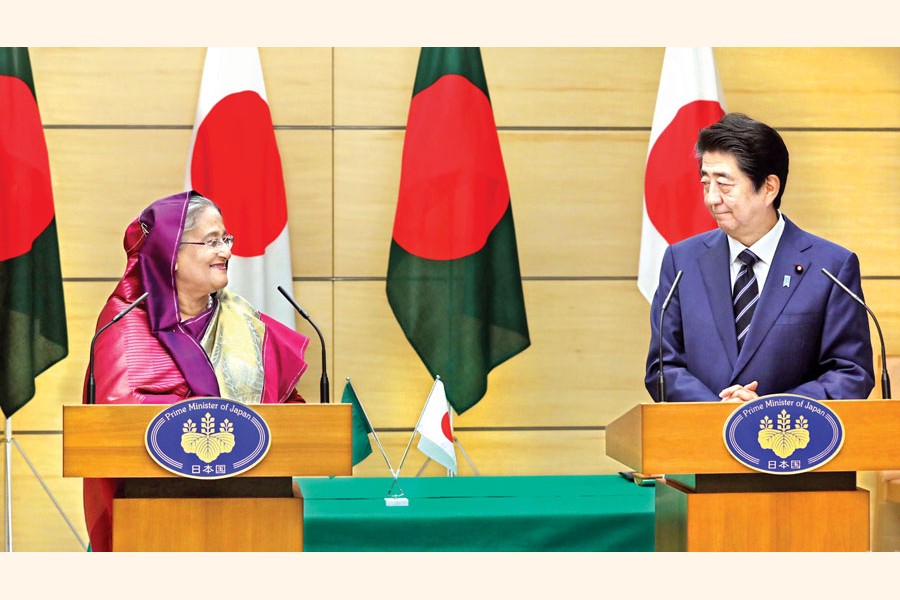 TOKYO, May 29 (UNB): Bangladesh and Japan signed on Wednesday their 40th ODA deal involving US$ 2.5 billion for implementing five projects to bolster ties between the two countries.
Economic Relations Division (ERD) Secretary Monowar Ahmed and Japanese Ambassador to Bangladesh Hiroyasu Izumi signed the ODA deal on behalf of their respective sides.
Prime Minister Sheikh Hasina and her Japanese counterpart Shinzo Abe witnessed the signing at his office.
Five projects, taken under the 40th Official Development Assistance (ODA) package deal, are Matarbari Port Development Project (1), Dhaka Mass Rapid Transit Development Project (Line 1), Foreign Direct Investment Promotion Project (II), Energy Efficiency and Conservation Promotion Financing Project (Phase 2) and Matarbari Ultra Super Critical Coal-Fired Power Project (V).
Meanwhile, Prime Minister Sheikh Hasina on Wednesday called upon the Japanese business community to explore newer areas for investment in export-oriented sectors of Bangladesh to unlock the full potential of business and trade relations between the two friendly nations.
"I invite you to explore the full potential of business and trade relations with Bangladesh. Given the excellent bilateral relations and understanding that exist between our two leaderships, and the tremendous goodwill prevails between our two peoples, let's lift the business relations to a higher level," she said.
The Prime Minister made the call while speaking at the Bangladesh-Japan Business Forum roundtable with CEOs at Hotel New Otani in Japan.
Sheikh Hasina said Bangladesh is a fast-emerging, highly competitive location for investments in terms of cost, human resources, size of domestic market, and access to international markets, trade facilitation, and investment protection.
"We welcomed the investment to the tune of 1.4 billion dollars made by Japan Tobacco last year. We wish to see more such investments from Japan," she said.
Hasina said the success of readymade garments of Bangladesh sector is globally known as the country is the second largest RMG exporter in the world after China.
The Prime Minister said apparel is the number one export product to Japan. In 2018, it achieved the highest growth, by almost 33.5 per cent in volume, surpassing all other competitors, she added.
"We would, however, like to see diversification in our export basket. I would call upon you to explore newer areas for investment in export-oriented sectors in Bangladesh," she said.
The Prime Minister said Bangladesh is now a major global hub for quality medicine as it is exporting medicines to more than 100 countries, including the USA, the UK, Australia and Africa.
She said shipbuilding has drawn global attention by producing world-class ocean-going vessels. Bangladeshi companies have provided passenger and cargo ships to 14 countries, including Europe.
She mentioned that software is yet another promising industry in Bangladesh.
Hasina said more than 20,000 Bangladeshi IT professionals are working in various reputed IT companies all over the world, including in Microsoft, Intel, IBM, Oracle and Cisco.
The Prime Minister said Bangladeshi agro-based products, jute goods, home appliances, light engineering products, leather products, pharmaceuticals, and electronic gadgets are making a mark in the world market.
Hasina said private sector is the main engine of Bangladesh's economy and the government attaches top priority to entrepreneurship development and private investments, both domestic and foreign.
Meanwhile, Summit Group of Bangladesh and Japan's Energy for New Era (JERA) signed a memorandum of understanding on Wednesday to initiate a mega energy infrastructure project.
The project will have the capacity to handle 20 million tonnes of bulk cargo in the Matarbari area in Cox's Bazar year.
It will provide impetus to Bangladesh's trade by development of various terminals for cargo and primary fuel in the Matarbari area in Cox's Bazar, according to Summit Group.
The project is expected to be functional within two years of signing the agreement among Summit, JERA Asia and the government of Bangladesh with an estimated investment of over US$500 million.
Prime Minister Sheikh Hasina witnessed the signing ceremony that took place at Hotel New Otani.