BARVIDA seeks Tk 5.0b loan from stimulus package
FE Report | Monday, 1 June 2020
---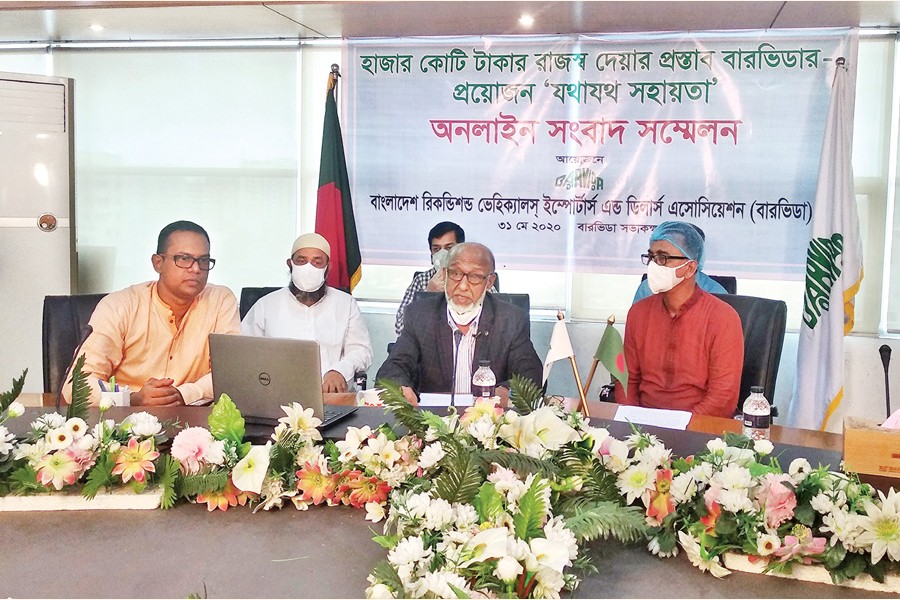 Reconditioned car importers on Sunday demanded that the government give them Tk 5.0 billion loan from its stimulus package for paying taxes on imported cars lying idle in seaports.
They also urged the government to waive port rent fee for April and May on release of around 8,000 imported cars at Chattogram and Mongla seaports considering the impact of the coronavirus pandemic on businesses.
The demands were made at an online press conference hosted by Bangladesh Reconditioned Vehicles Importers and Dealers Association (BARVIDA) from its office in the city.
Presided over by BARVIDA president Abdul Haque, the virtual event was also attended by BARVIDA vice-presidents SM Anwar Sadat, Saiful Islam and Md Jasim Uddin and secretary general Md Shahidul Islam.
Mr Haque said, "If the government provides the car importers with desired loan of Tk 5.0 billion, they will be able to return over Tk 15 billion in revenues through releasing imported cars from ports and selling it to the customers."
The government should take time-befitting policy measures to realise this big amount of revenues during this crisis within a short time, he added.
He said, "Granting loans to the sector is completely safe and secure because the fund will be deposited in the bank accounts of borrowers against submitted documents of vehicles while BARVIDA will act as the fund guarantor."
The BARVIDA president mentioned that around two-thirds of the total price of a car are paid as duty and taxes to the government.
Mr Haque also said imports and sales of used cars are decreasing gradually in the country as prices of such vehicles are double than brand new ones due to 'discriminatory' tax policy.
Although the business activities have been hit hard by the pandemic, still the vehicle traders have to pay the showroom and office rents, salaries to the employees which cost the sector around Tk 3.0 billion.
Responding to a question, the BARVIDA president said nearly 850 members of the association provided around Tk 14.56 billion as revenue to the government in fiscal year 2018-2019.
Besides, some 14,000 reconditioned and brand-new vehicles were imported last fiscal while around 6,000 were discharged so far in the current fiscal year 2019-2020.
BARVIDA vice-president Mr. Sadat said the middle-income people, who have the ability to own cars, may purchase cars during this time because of risk factors of using public transport.
For the sake of the country's economic vibrancy, the government should enable the banks raising the ceiling of car loans from 50 per cent to at least 70 or 80 per cent, he said.
BARVIDA also urged the authorities concerned to suspend auction of unreleased vehicles from the ports till December this year.