BAT holds AGM, EGM
Monday, 29 April 2019
---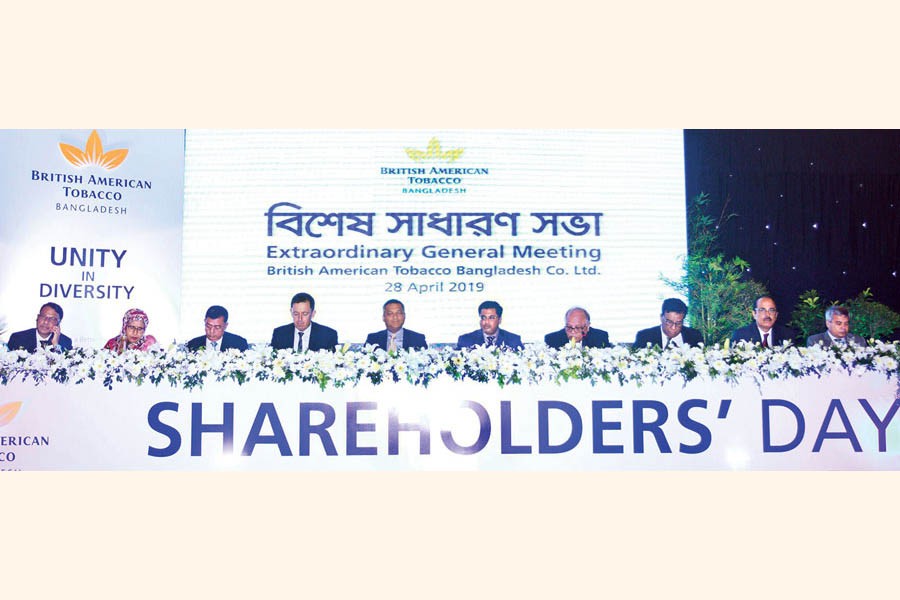 The 46th Annual General Meeting and an Extraordinary General Meeting of British American Tobacco Bangladesh Company Limited (BAT Bangladesh) were held on Tuesday at the Pan Pacific Sonargaon Hotel in Dhaka. Golam Mainuddin, Chairman of BAT Bangladesh, presided over the meetings. The Board of Directors and shareholders also approved the proposed dividend of Tk. 50 cash dividend & 1:2 stock dividend per share.
In 2018, the Company contributed Tk. 19,133 crore as value added tax, supplementary duty and other taxes to the national exchequer, making BAT Bangladesh the highest taxpayer in the country. In addition, various initiatives of the Company e.g. CSR projects, gender equality practice, sustainable agriculture initiatives have been contributing towards achieving the UNSDGs, different national goals and making a balance for a better Bangladesh.
Shehzad Munim, Managing Director of BAT Bangladesh, Board of Directors comprising of Mohammad Moinuddin Abdullah, K. H. Masud Siddiqui, A. K. M. Aftab Ul Islam FCA, Md. Abdul Halim, Tahmina Begum and Kazi Sanaul Hoq, and Head of Public Affairs & Company Secretary Md. Azizur Rahman, FCS were present at the EGM & AGM.