BAT's profit soars 39pc on cost cuts, tax-efficient strategies
Mohammad Mufazzal | Wednesday, 2 November 2022
---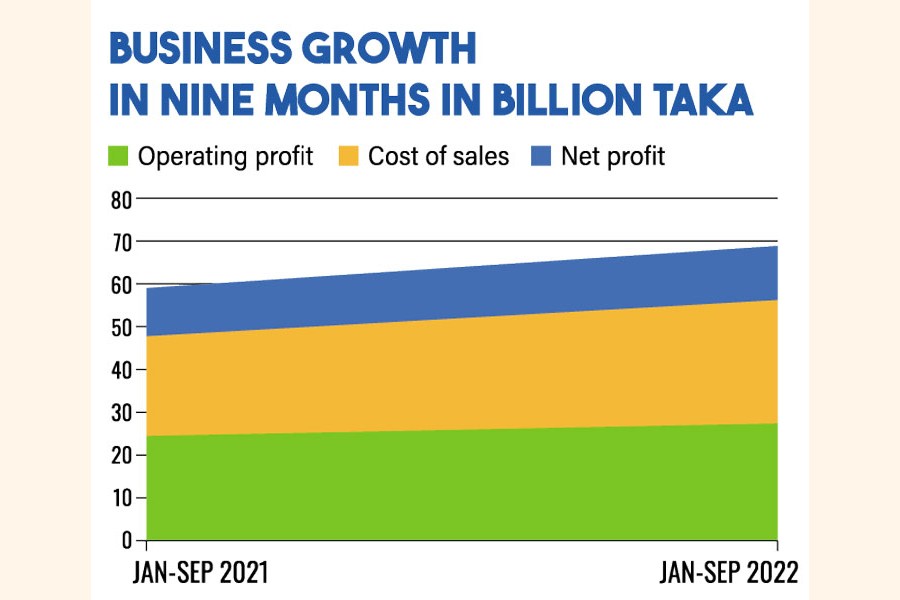 British American Tobacco Bangladesh Company (BATBC) gained more than 39 per cent growth year-on-year in profit for the third quarter through September, leading to 100 per cent cash interim dividend.
The remarkable growth was possible for a steep rise in sales volume. During the time, the operating profit jumped 32.65 per cent to Tk 8.08 billion, and earnings per share went higher by 39.26 per cent to Tk 7.59.
In a clarification, the BATBC said EPS increased for higher profit after tax driven by the growth in sales volume.
Earnings, however, declined when compared to the previous quarters-Tk 9.20 in the second quarter and Tk 7.73 in the first quarter of this year.
"The BATBC demonstrated higher operational efficiency by keeping costs under leash despite inflationary pressures, yielding only 22.3 per cent year-on-year growth in operating expenses," said Ahsanur Rahman, chief executive officer at BRAC EPL Stock Brokerage.
Amid soaring inflation, currency devaluation, and increased freight costs, the company's cost of sales surged by 48.6 per cent in Q3, resulting in a gross profit margin of 52.6 per cent.
Tax-efficient business practices also helped the firm lower its effective tax rate from 48.4 per cent to 46.1 per cent. "All these factors led to a net margin of 20.2 per cent," Mr Rahman added.
The company has reported that its gross revenue was Tk 79.33 billion for Q3, 2022, up 25 per cent from the same quarter last year.
The BATBC experienced impacts of a volatile capital market between August and September.
On August 7, its share price rose to Tk 530.10 and then retreated to Tk 519 on August 11. The stock exhibited ups and downs before getting stuck at floor price-Tk 518.70 -- on September 6.
The company saw a sharp growth in the operating cash flow in the last nine months, compared to the previous year, because of what the company said was higher cash collection from sales.
The net operating cash flow per share shot 1,396 per cent to Tk 39.55 for January-September 2022 from only Tk 1.20 a year ago.
Earnings per share stood at Tk 24.52 for January-September, 2022 while it was 21.41 for the same period last year.
Foreign stakes in the company went down moderately in the nine months till September. Foreigners held 8.10 per cent shares until the end of last year, but the stake was reduced to 6.93 per cent by August this year and then to 6.55 per cent by September end, according to data gleaned from the DSE website.
Sponsor-directors hold 72.91 per cent shares, government 0.64 per cent, institutes 12.62 per cent, and individual investors 7.28 per cent as of September 30, 2022.