BD least prepared to benefit from tech transfer
DOULOT AKTER MALA | Thursday, 24 November 2022
---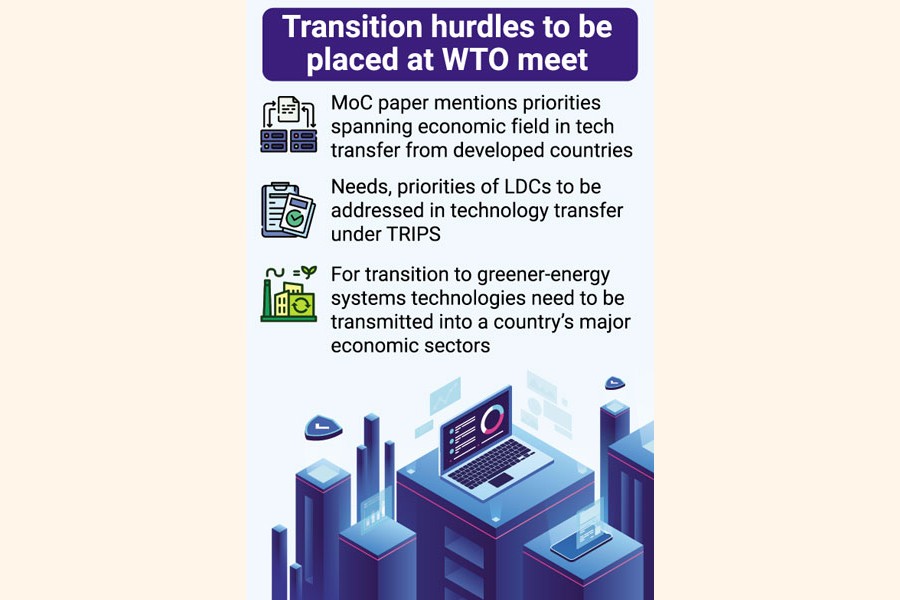 Technology transfer from the developed world in most cases turns unsuccessful in Bangladesh as it is found least prepared yet with sufficient homework on specific needs assessment.
Relevant factors have to be considered in identifying areas where the country required technological know-how and where it has deficiencies, says an official survey report.
The Ministry of Commerce (MoC) in a policy paper prepared recently underscores conducting 'Needs Assessment and Technology Assessment' to derive actual benefits from technology transfer from the developed countries.
"…….it is claimed that the key factors for the failure of technology transfer are a lack of needs assessment and a lack of technology assessment," reads the paper prepared for placing with the World Trade Organisation (WTO).
The documentation is part of a survey on LDC (least-developed country) needs and priorities for technology transfer under TRIPS (Trade-Related Aspects of Intellectual Property Rights) Article 66.2.
The WTO Secretariat is likely to organize the next annual workshop on Implementation of Article 66.2 of the TRIPS Agreement next March.
The MoC finds Bangladesh afar from finishing the technological needs-assessment task as yet.
It notes that different policy papers in Bangladesh have put priorities on technology-transfer front, as the world is on the cusp of fast transition into high-tech era.
After finalizing the technological needs assessment, Bangladesh would be able to set its priorities right in specific context.
The country would need technology for the development and manufacturing of pharmaceutical raw materials, especially active pharmaceutical ingredients (APIs), that require high levels of engineering and chemistry skills for pharmaceutical sector, the commerce ministry says.
It notes that there is significant potential for countries to transition to greener-energy systems when technologies are transferred into a country's major economic sectors.
In the case of Bangladesh, the ready-made garment (RMG) is a key sector. The country is the fifth-largest exporter to the EU and among the top 10 suppliers to the US. While some factories have started using renewable energy and more energy-efficient technologies, there is a lack of financial support, innovation and technologies.
Md Hafizur Rahman, Director-General at the WTO Cell under MoC, says Bangladesh needs technology transfer in ICT, agriculture, pharmaceutical sectors on a priority basis.
"We often claim that the areas where we need technological support usually not get addressed properly. The needs- assessment initiative would help to identify those areas," he adds.
In the paper, the MoC also put priorities on green technology for renewable energy, technology for power grid, marine technology, climate change, technology for ensuring quality and quantity of hides and skins, technology for the flaying, preservation and transportation of rawhides and skins in leather production etc.
It also seeks textile technology for product diversification and branding, clean technology for cutting, stitching and processing of raw hides and skins in leather production, use of modern tanning chemicals aimed at clean tanneries, in terms of effluent-treatment technology, management and maintenance of the CETP, and particularly process and effluent monitoring and certification.
The WTO workshop aims to identify the practical needs of the LDC members concerned.
The survey has been developed in careful consultation with the LDC Group of WTO members and observers in Geneva, Switzerland, guided also by practical experience in classifying fields of technology that are most relevant to development.
The WTO Secretariat will compile responses received and prepare the workshop programme accordingly. The survey result will also be presented at the workshop as an information resource to assist the proceedings.
Meanwhile, the MoC had distributed the survey questionnaire to all government agencies, or national expert groups, that have responsibilities relevant to each listed technology sector. The ministry sent the survey answers through the permanent mission of Bangladesh in Geneva.
Former president of Bangladesh Association of Software and Information Services (BASIS) Shameem Ahsan, also Managing Director of eGeneration Ltd, says Oracle, Microsoft and other techno-giants transfer technology from their parent companies but major initiatives from WTO member-countries in this regard are not visible yet.
Responding to a query on the urgency of moves needed for bridging the digital divide, he says, "Technology transfer through needs assessment would certainly pay off."
He cited several previous needs-assessment studies done by Bangladesh Computer Council (BCC) and ICT ministry with World Bank funding on leveraging ICT sector for growth.