Beximco Pharma's profit returns to pre-Covid level on expiry of vaccine deal
FE Report | Tuesday, 31 January 2023
---

Beximco Pharmaceuticals reported a 28 per cent year-on-year decline in profit for October-December, FY23, rendered by rising costs and the expiry of the Covid vaccine distribution agreement.
The consolidated earnings per share slid to Tk 2.77 for the second quarter of the year from Tk 3.84 for the same quarter of the FY22.
One of the leading drug makers, Beximco Pharma earned Tk 619 million for distributing Oxford/ AstraZeneca Covid-19 vaccine in the six months through December 2021 under a deal with the Serum Institute of India and the Bangladesh government.
It did not have any income in distribution fee in Q2, FY23.
It was a one-off income and if that is taken into consideration, Asif Khan, chairman at Edge Asset Management, said, "The company didn't see any significant deviation in EPS for the second quarter of the FY23."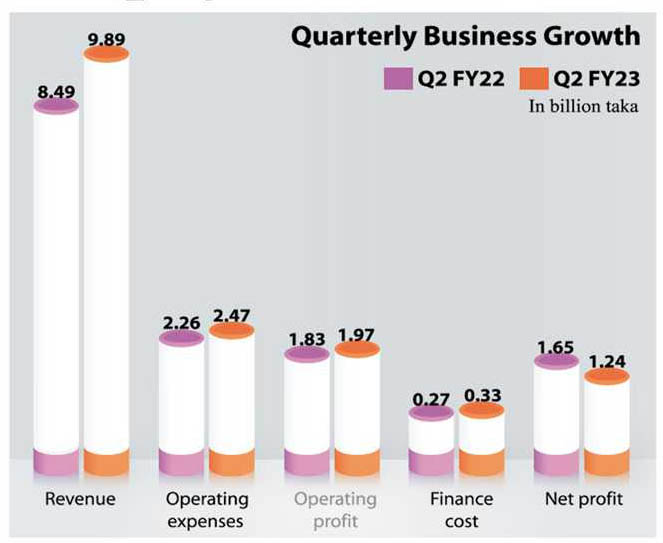 The EPS of Beximco Pharma almost returned to its pre-covid level. For income from vaccine distribution, its EPS was higher -- Tk 3.28 and Tk 3.84 for the first two quarters of FY22.
The company's cost of goods sold rose 24 per cent in the October-December quarter of 2022 to Tk 5.45 billion, compared to the same quarter of the previous fiscal year.
The 22.2 per cent year-on-year jump in finance cost due to the devaluation of the taka against the dollar and 7.65 per cent increase in operating expenditure played a major role in profit erosion in October-December 2022.
The decline in EPS was accompanied by a sharp fall in the operating cash flow for Q2, FY23 compared to the same quarter a year ago.
The net operating cash flow per share (NOCFPS) stood at Tk 5.33 for July-December, FY23, down from Tk 8.22 for July-December, FY22.
"NOCFPS has declined due to increased working capital investment consequent to the record devaluation of the taka, increased prices of materials and higher domestic inflation," the company said in a disclosure.
It also said it had to enlarge its inventory to avoid any supply chain disruption and to support the "organic business growth".
The share of Beximco Pharma had a sharp rise between August and early September last year.
The stock price closed at Tk 191.30 on September 11, 2022, a 29 per cent rise since the end of July. Later, the company's share price exhibited volatility amid a downward market trend and came down to Tk 146.20 on November 23, 2022.
The stock swung a bit and closed at Tk 146.20 on Monday.
Beximco's EPS falls
Another listed company of Beximco Group, Beximco also saw a year-on-year decline of 19 per cent in earnings for Q2, FY23 as its operating profit fell for the rising expenses.
Beximco is the largest company within the BEXIMCO Group and operates across multiple industry verticals. The company is present in textiles, PPE, ceramics, ICT, real estate, marine food & commodity trading. The company's largest division is Textiles, which is a fully integrated manufacturer of cotton and polyester blended garments for men, women and children, both for domestic and export markets.
For the quarter, Beximco posted an EPS of Tk 3.60 against Tk 4.45 reported for the same quarter of the previous fiscal year.
The company's operating profit decreased 5 per cent year-on-year to Tk 6.01 billion in Q2, FY23.
It saw a 51 per cent rise in financial expenses to Tk 2.02 billion for Q2, FY23 compared to the same quarter of the previous fiscal year.
Asif Khan, chairman of Edge Asset Management, said the company's finance cost had escalated as it was paying interest of sukuk bonds issued to build a solar power plant.
"The company is to pay around Tk 3 billion per annum as interest against sukuk. Moreover, the depressed economic situation is a reason behind the decline in the EPS," Khan said.
Beximco also saw a significant fall in the operating cash flow for July-December, 2022, compared to the same period of the previous fiscal year.
The net operating cash flow per share (NOCFPS) was Tk. 4.57 for July-December 2022, which plunged from Tk 14.30 for July-December 2021.
In its quarterly disclosure, the company did not give any clarification of the significant deviation in NOCFPS.
The share price of Beximco closed at Tk 140.30 each on September 19 and later declined 21.36 per cent to the floor price of Tk 115.60 on November 6, 2022.
The share price remained unchanged until Monday.
[email protected]