BIDA, SCB join hands to lure foreign investments
FE REPORT | Wednesday, 6 January 2021
---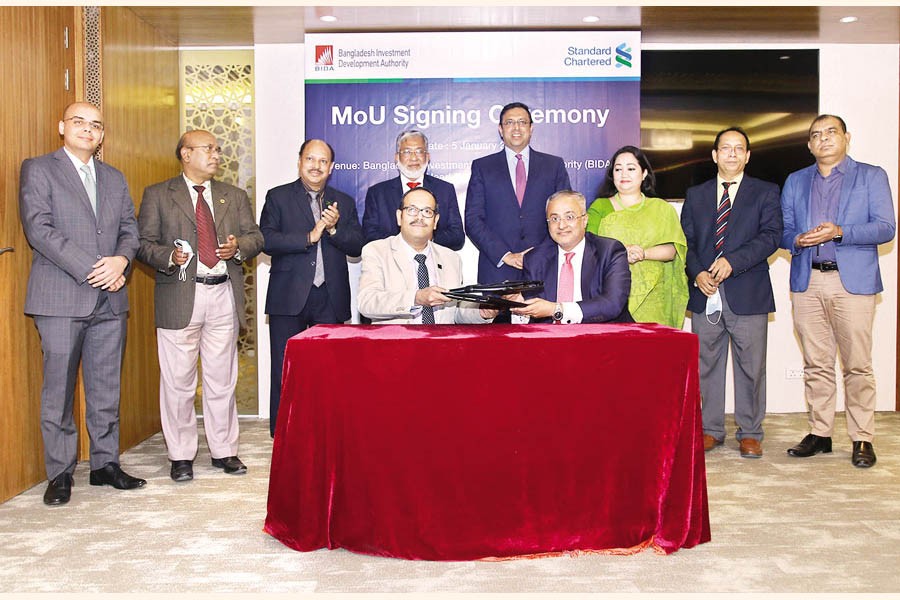 The Bangladesh Investment Development Authority (BIDA) and the Standard Chartered Bangladesh (SCB) have joined hands in a bid to attract more foreign investments in the country.
The partnership, as its first initiative, will organise a virtual Bangladesh-China investment summit on January 25 aiming to boost the bilateral trade relations between the two countries and promote investment.
Besides, the two organisations will continue to implement a wide range of programmes to encourage more foreign investments in Bangladesh in coming days under the agreement.
To this effect, both the parties signed a Memorandum of Understanding (MoU) at the BIDA headquarters in the city's Agargaon area on Tuesday.
Dr Abdul Hamid, BIDA secretary, and Enamul Huque, managing director and head of corporate, commercial and institutional banking client coverage for Bangladesh, SCB, inked the deal on behalf of their respective sides.
BIDA Executive Chairman Md Sirazul Islam, SCB Chief Executive Officer Naser Ezaz Bijoy and BIDA Executive Member Md Mosharraf Hossain, among others, were present at the ceremony.
The partnership is expected to leverage the SCB's networks at home and abroad to target high value, hi-technology and high impact investments covering key priority sectors including agriculture, ICT, electronics, light engineering, renewable energy, power and health care.
Under the partnership, the first virtual investment summit on January 25 will showcase the collaboration potential between Bangladesh and China and highlight the emerging strategic opportunities.
Policymakers, bureaucrats, entrepreneurs and other professionals from both the countries will join the virtual event.
Addressing the ceremony, BIDA chairman said Bangladesh's vision to become a middle income country by 2024 and a developed one by 2041 largely depends on foreign investments.
Several government investment promotion agencies like BIDA have been working to attract and facilitate investments here, he said.
"I expect the partnership between BIDA and the SCB will play a significant role in drawing more foreign investments," he said.
"Public and private sector collaboration is now more important, as we aim to overcome challenges of Covid-19 and leverage the opportunities of the new normal," he said.
SCB CEO Naser Ezaz Bijoy said the changes across the globe caused by the pandemic highlight the importance of building resilience through diversification.
"With companies looking to invest in diverse markets to build resilience and leverage available resources and prospects, we have a unique window of opportunity to expand our FDI pool," said Bijoy.
Earlier, the SCB held six investment summits in Singapore, Hong Kong and the United Kingdom under its flagship event known as 'Bangladesh Investment Summit'.