BRAC Bank rolls out 1st digital banking super app
Thursday, 26 January 2023
---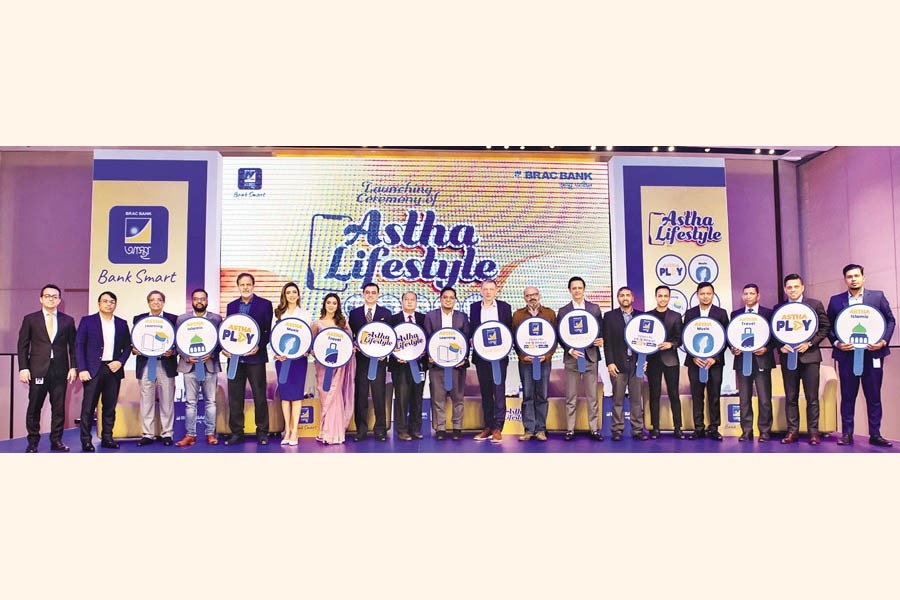 For the first time in Bangladesh banking industry, BRAC Bank has launched digital banking super app, Astha Lifestyle.
The All-Rounder Astha App will have its lifestyle solution for BRAC Bank customers for all day-in and day-out from a single app.
All-rounder Astha App's super app will include Astha Play OTT entertainment Platform with exclusive early access content, Astha Music the largest music and podcast platform of Bangladesh with more than 100,000 entertainment content, Astha Islamic developed with Islamic services-based on Quran and Hadith, Astha Learning Bangladesh's first digital banking learning platform with academic and professional learning classes, and Astha Travel built for Astha Super App's travel solution.
In less than two years, BRAC Bank's Astha app has evolved from a Digital Banking App to a Digital Convenience Platform.
The bank's aim is to drive disruption in digital banking and enhance customer experience. On this journey, BRAC Bank has launched different award winning features such as the digital banking toll-free app in a telecommunication network, Digital Rewards etc.
These differentiators have helped Astha app become Bangladesh's fastest growing Digital Banking App.
Last year, the bank's growth trajectory in digital banking was almost three times faster than the overall industry in the country. During this time, Astha App's annual digital transaction volume stood at BDT 3350 billion, and total digital transactional counts have reached to almost 9 million mark.
To continue this growth, the bank wants to accelerate its cross-industry collaboration efforts with existing and upcoming digital enablement and lifestyle partners.
Selim R. F. Hussain, Managing Director and CEO of BRAC Bank; Erik Aas, CEO of Banglalink Digital Communication; Matiur Rahman, Editor Prothom Alo; Solaiman Alam, Chief Digital and Strategy Officer of Grameenphone and Kamal Quadir, CEO of bKash Limited; Md Adil Hossain Noble, Chief Enterprise Business Officer of Robi Axiata; and Anand Tilak, Facebook & Google Technology Expert; formally launched the first-of-its-kind service at a hotel in Dhaka on Wednesday.
They also participated in a panel discussion titled 'Digital Disruptions and Cross Industry Collaboration' moderated by Md Rashedul Hasan Stalin, Senior Vice President & Head of Digital Business & Payments of BRAC Bank.
In the ceremony, Fayaz Taher, COO of Stellar Digital Ltd. (Bongo); Md Adil Hossain Noble, Chief Enterprise Business Officer of Robi Axiata; and Md. Sabbir Hossain, DMD & COO of BRAC Bank; unveiled 'Astha Play'.
Sabirul Haque, CEO of Shadhin Music; and Dr. Asif Naimur Rashid, Chief Business Officer of Grameenphone; unveiled Astha Music.