BSTI finalises standard for paint industry
Sets the limit of harmful lead content for household paint at maximum 90ppm
---
Ismail Hossain | Friday, 5 January 2018
---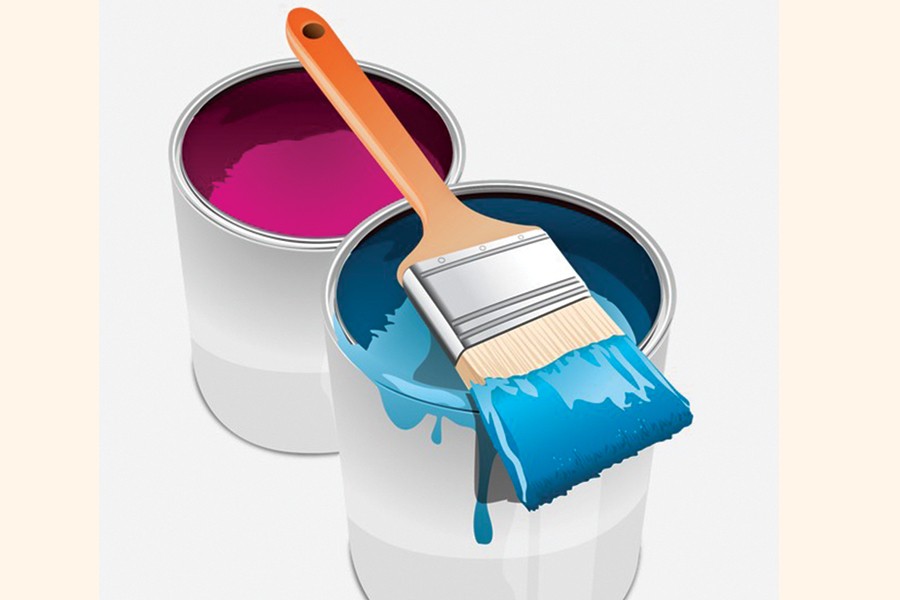 Bangladesh Standards and Testing Institution (BSTI) has finalised a standard for the paint manufacturing industry, setting the limit of harmful lead content for household paint at maximum 90ppm (parts per million).
Experts, however, said it is against the global campaign being carried out to bring down the use of lead content in household paint to zero.
A high official at BSTI confirmed that they finalised the draft and are now waiting for the gazette notification to be published after almost three years and series of meetings.
Environment and Social Development Organisation (ESDO) general secretary Dr Shahriar Hossain termed the presence of lead in household paint 'silent poison'.
ESDO is a campaigner against use of lead.
"Expose of lead, especially to children, is very dangerous. Lead-free paint is a global campaign while BSTI is allowing 90ppm lead content in Bangladesh. It is not a good sign," Mr Hossain told the FE.
He said Department of Environment (DoE) has prepared guidelines with the permissible amount of lead content in household paint 50ppm.
"In that case what is the use of allowing 90ppm lead content by BSTI," he asked.
The Global Alliance to Eliminate Lead Paint, co-led by the United Nations Environment Programme (UNEP) and the World Health Organization (WHO), announced the goal of eliminating lead paint around the world by 2020. The announcement came at the Global Citizen 2015 Earth Day organised by the Global Poverty Project and the Earth Day Network.
BSTI formed a 12-member committee in 2015 to review the existing standard for paint manufacturers which was adopted long ago.
The BSTI official, seeking anonymity, said the committee comprising industry experts, university professors, manufacturers sets the standard and the BSTI office just facilitates the process.
Without elaborating details, he hinted that leading industry players especially multinational and larger ones influenced the draft so that local companies and smaller ones cannot export paint or can get weaker in the market.
He also said most of experts recommended 50ppm but industry people influenced the final report.
Leading four or five paint manufacturers in the country maintain almost zero lead content in paint. But they supported 90ppm lead content in the meeting, he also said.
Bangladesh Paint Manufacturers Association (BPMA) president Salim Ahmed said the draft prepared by BSTI is comprised of 'obsolete codes and conducts'.
He also said both BSTI and industry agreed on 90ppm. Bangladesh cannot produce paint by European standards.
According to a study, concentration of lead in 24 out of the 29 decorative paints found from 800ppm to 14,200ppm lead in 2010 in Bangladeshi brands.
Another study conducted by ESDO in 2012-13, nearly two-thirds of the paint sampled had lead concentrations above 600ppm and would not be permitted for sale or use in most highly industrialized countries.
In 2014-15, ESDO found lead in 43 of 56 solvent-based enamel decorative paints above 90ppm.
Experts say around 853,000 people die annually in the world due to lead poisoning. As much as 6.6 per cent excess lead in the body may invite heart diseases and, in the long run, cause cancer.
The lead poisoning may be transferred from a mother to her baby during pregnancy and in men it can cause high blood pressure and even depleted performance of sperm production.