China's leadership in the 'new world order'
Abul Qasem Haider | Saturday, 27 May 2023
---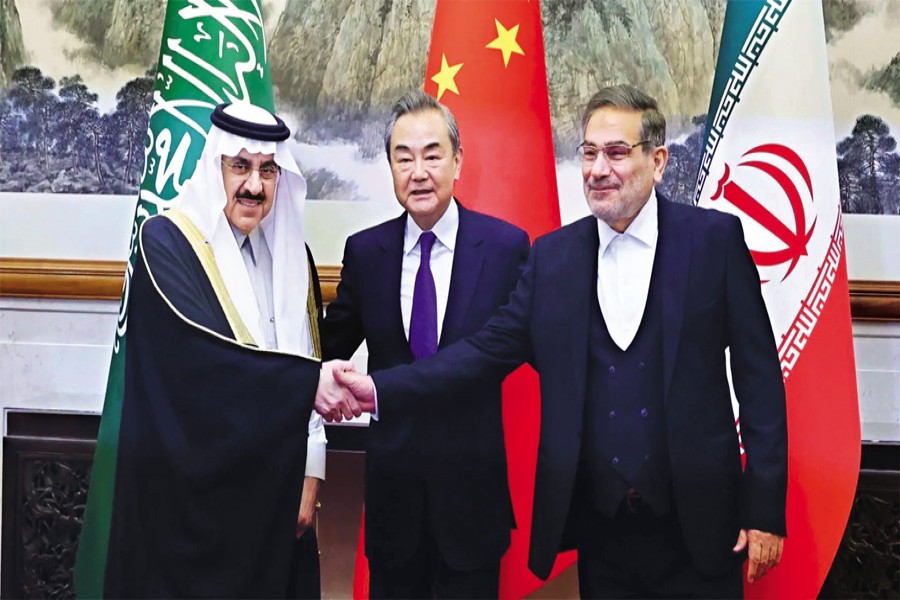 Only the United States continues to dominate world politics after the fall of Soviet Union. After the fall of Great Russia, no other power has been able to come up against the United States in strength and cunning.
China is making some headway in the race to become a dominant partner in the new 'world order'. World peace or the balance of power on the Earth requires the birth of a second great power. In the future, China is moving forward in the competition to occupy this seat.
Weak countries, in particular, see the need for China's rise to gain advantage as a partner in the global system.
The official name of the royal palace where Chinese President Xi Jinping and Russian President Vladimir Putin met in Moscow recently is Bolshoi Dovares, the Grand Kremlin Palace in English.
Jinping walked from one end of the palace's ornate courtroom, Putin from the other. Both have been in power for a long time, both have recently passed the law of president for life in the Legislative Council.
One of them has been accused of war crimes again in the International Criminal Court. Others accused him of violating the human rights of Uyghur Muslims and other minorities in his country. International human rights organisation Human Rights Watch compared it to genocide.
President Xi put his hand on President Putin's hand and smiled and said, 'Zhiji'. That means dear friend. In response, Putin said, "Dargoi Drug." It also means dear friend. Xi said before the visit, he was bringing a peace proposal to end the war in Ukraine. Those who thought he might be neutral in this war and play the role of a mediator would prove wrong. That is sand in the molasses. From that 'hello', President Xi made his position clear.
Sino-Russian relations: China is now the second major superpower in the world. Not only the economy, but also in the military field, the country is advancing rapidly. Its leap in technology is unheard of. This China now wants to build an alternative global system to bypass the US-led world system after World War II. Not alone, it wants Russia to help it in this work.
These two countries have already declared their 'unending friendship'. Using that friendship, China wants to build a new world order. There have been many ups and downs in the relationship between Russia and China in the last 70 years. The relationship that started with friendship during the Chinese Revolution in 1949 turned into enmity after the death of Soviet dictator Stalin.
In 1969 there was a major border war between the two countries. After the collapse of the Soviet Union in the 1990s, the relationship between the two countries changed again. Over the next two decades, these two countries gradually became each other's strategic allies. The common enemy of both is the United States and the Western military alliance.
China is the leader in this new alliance, Russia is its 'junior partner'. Russia's dependence on China has increased since the start of the Ukraine war. In the face of Western sanctions, it has to rely on China for oil and gas sales. China has more profit in this. It is getting cheap oil, and Russia's willingness to sell oil in renminbi instead of dollars or rubles has given it a big boost in making the country's currency an alternative to the dollar.
Another advantage for China is that it has secured a long-term commitment from Russia for continued oil and gas supplies. In Moscow, the two countries' leaders agreed to build a new 1,500-mile gas pipeline from Siberia to the Chinese border, which would allow at least 50 billion cubic metres of gas to be exported annually.
Russia, however, is not only interested in selling oil and gas, but also wants arms from China, which China is not very interested in providing. Its economy is closely linked with Europe-America. Not just involved, but largely dependent. In this situation, if arms sales to Russia lead to sanctions against China, a lot can go wrong. In view of that, Xi has not made any promises to supply arms to Moscow at this time.
New world order: President Xi did not come to Moscow only in search of oil and gas. His aim was deeper. He wanted to present himself and his country as an 'alternative' superpower to the US. As China has become stronger economically and militarily, its rivalry with the United States has intensified. Washington openly regards Beijing as its main rival, a 'competitor' in diplomatic parlance.
The Biden administration says China, not Russia or Islamic militancy, is the main threat to its national security. A top US general even said a month ago that a war between China and the US over Taiwan is inevitable in the next two to three years. This scenario is not unknown in China. Keeping in mind that, the US has not allowed Russia to rise, and will not allow it. China has mainly stepped up to consolidate its military, especially maritime, presence in Southeast Asia. China also wants to annex Taiwan. This attempt did not escape the eyes of the United States. As a countermeasure, it also strengthened its military power and influence in the region.
Japan, Australia and India have developed a new military alliance.
In the face of this competition, China has reached out to Russia in search of its partner. Russia may be economically weaker than the US or China, but as a nuclear power it is second to none.
If these two countries and countries like Brazil, North Korea, South Africa and Iran are found together, then implementation of the 'alternative' world system that China has thought of will not be impossible.
China has already done a great job of beating the US. Last month, it brokered restoration of diplomatic relations between Iran and Saudi Arabia, ending long-standing hostilities.
Since 2016, there had been no diplomatic relationship between Iran and Saudi Arabia due to the civil war in Yemen. In this war, Iran is on the side of the Shia Houthis and Saudi Arabia is on the side of the Yemeni Sunnis. This bloody rivalry has led to a disaster for both Iran and Saudi Arabia. Both countries want an end to this situation.
The situation is changing even though the United States alone had been moving all the levers in the Middle East for so long. Saudi Crown Prince Mohammed bin Salman does not trust the United States, especially the Biden administration, at all. On the other hand, the US dispute with Iran is age-old, these two countries do not have any official diplomatic relations. As a result, it is impossible for the United States to play a role as a mediator in ending the war in Yemen.
China came forward to fill the diplomatic vacuum in this situation. Iran and Saudi Arabia agreed to re-establish diplomatic relations at the same embassy.
'Junior partner': China wants to see itself as a bigger 'player' not only in the Middle East, but also in the whole world. In this new project, Xi wants Moscow to be on his side, but as his 'junior partner'.
Once upon a time, China and the United States had joined hands to isolate Moscow around the liberation war of Bangladesh. Now China and Russia are joining hands to bring the US and Western military alliance together. During the Soviet era, China was a weak and incompetent neighbour that Moscow could bully at will. That situation has changed. Now policy instructions will come from Beijing, Moscow will follow them without protest.
Alexander Gabuev, a prominent Russian analyst at the Carnegie Endowment, an American research organization, wrote in an explanation on this turn of history that it is true that China was once Russia's 'little brother', but now it is the big brother. As the number-two power in the world, its global influence is much greater than that of Russia. Apart from that, Russia has no weapon other than accepting China's leadership in the war in Ukraine.
Alexander Gabuev said that Russia's dependence on China would increase, not decrease, in the coming years. China will be Russia's number-one market for its oil and gas exports. Russian consumers will also become dependent on Chinese products. The renminbi will gain greater acceptance as a regional and international currency in the coming years as goods are traded in Chinese currency.
More importantly, this Russo-Chinese rapprochement will become an effective weapon for Beijing in its competition with Washington.
Gabuev thinks that Putin is now in Sir's pocket. He wants Putin to stay in power in order for this kneeling situation to continue. If someone who is pro-Western comes to power in Russia after removing him, it will be a big headache for China.
Global Security Initiative: Another proof that China is interested in building an alternative to the US-controlled global system is the Global Security Initiative. In April last year, Xi Jinping first mentioned this initiative in a speech. In that speech, he offered all the countries to stay together, 'because we are all passengers in the same boat, we all want security.
In the 'White Paper' published by Beijing on February 21 this year as a detailed explanation of this initiative, it is clear that China wants to change the current Western hegemonic, unilateral and protectionist world order.
The picture of how this change will come about is unclear, but it is clear from the words of Chinese leaders that they want to replace Western interventionist politics with national sovereignty as the central tenet of international relations.
China wants an end to the way the US verbalizes human rights abuses, imposes economic sanctions. The source of this proposition is probably the Westphalian model of the seventeenth century. The central idea of that model is the principle of 'sovereignty is inviolable'. But the way China has not condemned Russia's violation of the sovereignty of neighbouring Ukraine, it is clear that these proposals are not selfless.
Some US experts have derided the initiative as a 'dictator's manifesto'. The goal of this new system is to ensure that the dictators of the world can enjoy power with ease, writes Michael Schuman in the Atlantic newspaper. US Secretary of State Anthony Binken said, 'What Beijing really wants is to tear down the legal system we've had for 75 years and build a system where authoritarian regimes like China are considered legitimate.'
The Chinese Model: It is no secret that China does not recognize the current Western-style multilateral democratic system as the only legitimate system. President Biden didn't invite anyone from China or Russia to his 'democracy' conference. China said, "Who said what the United States calls democracy is the only model of democracy?" Whatever democracy is, the real issue is whether it is yielding results or not. China claims that their democratic model is definitely paying off.
Abul Quasem Haider is Founder Chairman of Eastern University, Islamic Finance and Investment Ltd., Australian International School and Abul Quasem Haider Women's College, Sandwip, Chattogram. He is also a former Senate Member of University of Dhaka. [email protected]