Contract inked on MRT-1 depot land development
Physical work expected to start within a couple of months
---
FE REPORT | Thursday, 24 November 2022
---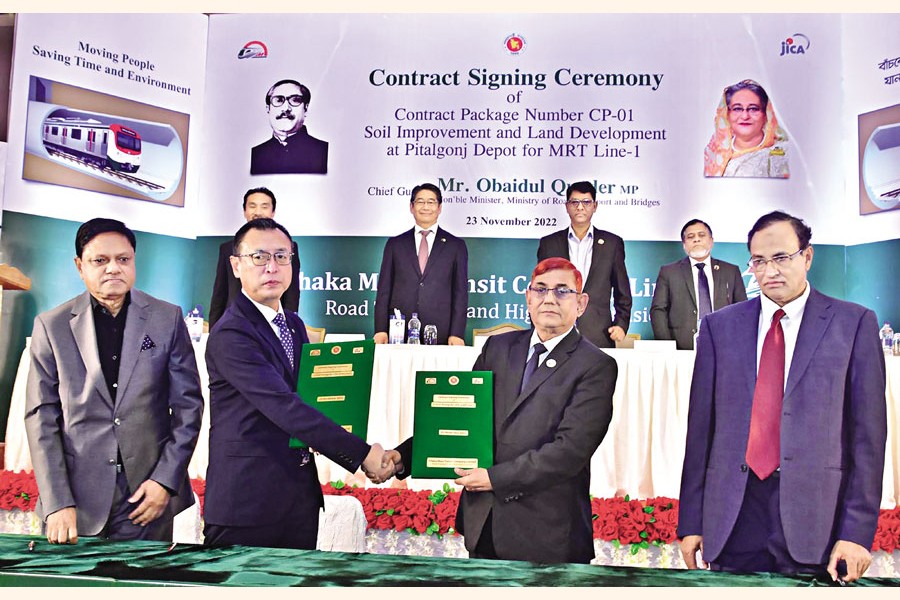 The first contract to develop land for the depot of the city's first underground metro rail was signed on Wednesday, paving the way for starting its physical work within a couple of months.
The Dhaka Mass Transit Company Limited (DMTCL) signed the Tk 6.07 billion contract with Japan-Bangladesh joint venture Tokyu Construction Company Ltd (TCCL) and Max Infrastructure at a ceremony in the city.
DMTCL Managing Director MAN Siddique and Executive Officer and Divisional Manager of TCCL Masakazu Konishi signed it on behalf of their respective sides.
Briefing journalists after signing the contract, Mr Siddique said a groundbreaking ceremony has been planned in the end of January or early February to inaugurate the physical work of the mass rapid transit line-1 (MRT-1).
He said the land development work will start soon after getting necessary concurrence from the project's financier and the authorities concerned as well as bank guarantees from the contractors hopefully within a month.
Regarding inauguration of the MRT 6, the MD said that a summary has been sent to the Prime Minister's Office seeking an appointment of the Prime Minister any day in the last week of December next.
The DMTCL has been working to develop the 31.24-kilometre line -both underground and elevated - in two parts at a cost of Tk 525.61 billion, including a Tk 394.50 billion assistance from the Japan International Cooperation Agency (JICA).
Some 19.87 km underground part will be built from Airport station to Kamlapur station with 12 stations and 11.36 km elevated section from Kuril to Purbachal where nine stations will be set up. The MRT will have connectivity with other MRTs at four points.Mr Siddique, however, claimed that the underground work would not affect the traffic as the work will be carried out from 30-metre to 70-metre below the road surface.
He also ruled out the possibility of hitting the city traffic due to the construction work and said one side of the road, where the stations will be constructed through open-cut methodology, will always remain open.
"The days are not too far … hopefully we can start the underground work before ending the current fiscal year after the arrival of the TBM machine," he told the journalists.
The MRT 1 will develop its depot on 88.71 acres of land at Pitolganj and Brahmankhali in Rupganj upazila near the Kanchan Bridge. The work includes land filling, soil improvement, drainage channel, peripheral road construction, slope protection, and settlement monitoring, which will be completed in 30 months.
The MRT 1 is planned to be ready by 2016 to enable the transit of 800,000 commuters daily through the corridor.
The stations to be constructed underground are Airport, Airport Terminal, Khilkhet, Nodda, Notun Bazar, North Badda, Badda, Aftab Nagar, Rampura, Malibagh, Rajarbagh and Kamlapur.
Elevated stations will be built at Notun Bazar, Nodda, Joar Sahara, Boalia, Mastul, Sheikh Hasina Cricket Station, Purbachal Centre, Purbachal East and Purbachal Terminal.