DESCO to give 10pc cash dividend as EPS goes down
Spending for energy purchase was higher than income from sales
---
FE Report | Monday, 17 October 2022
---
The Dhaka Electric Supply Company (DESCO) recommended 10% cash dividend for the fiscal 2021-22, having suffered a 14.52 per cent decrease in earnings per share or EPS.
The EPS slid down to Tk 1.59 in the year ending June 30, 2022 from TK 1.86 a year ago. During the time, the company's net operating cash flow per share also declined 11.67 per cent, or Tk 1.73, to Tk 13.09.
In a clarificationposted on theDhaka Stock Exchange (DSE) website, the DESCO said its EPS had decreased "due to higher deferred tax provision made as per income tax law".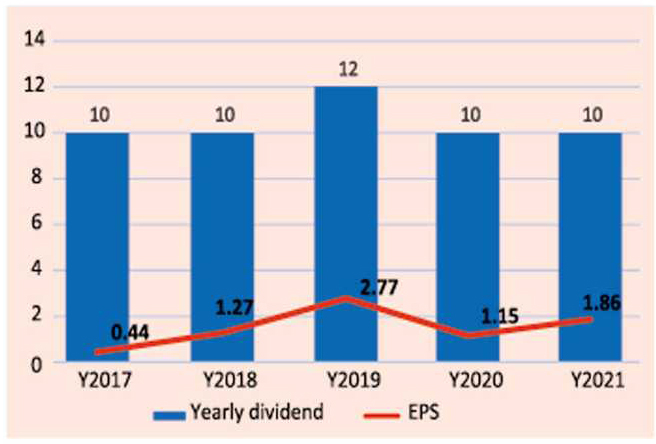 According to the company's financial statement, the company made a provision of above Tk 46.80 million in FY 2021-22.
The net operating cash flow per share (NOCFPS) dropped since"the company paid Tk. 523,18,96,919 [5.23 billion] more for energy purchase but received Tk. 262,24,01,486 [2.62 billion] more for energy sales compared to last FY".
Repeated attempts failed to reach the authoritiesconcernedfor comment.
In the previous five years, dividends given by the company was static at 10 per cent except for 2019 when the company's EPS was remarkably higher. That year, investors received 12 per cent dividends.
The DESCO, presently an 'A' category company, was listed with the bourses in 2006.
The government holds 67.66 per cent shares of the company while the institutes hold 23.78 per cent, foreigners 0.05 per cent and individual investors 8.51 per cent as of September 30, 2022.
[email protected]