Dhaka Bank observes 25th anniversary
Monday, 6 July 2020
---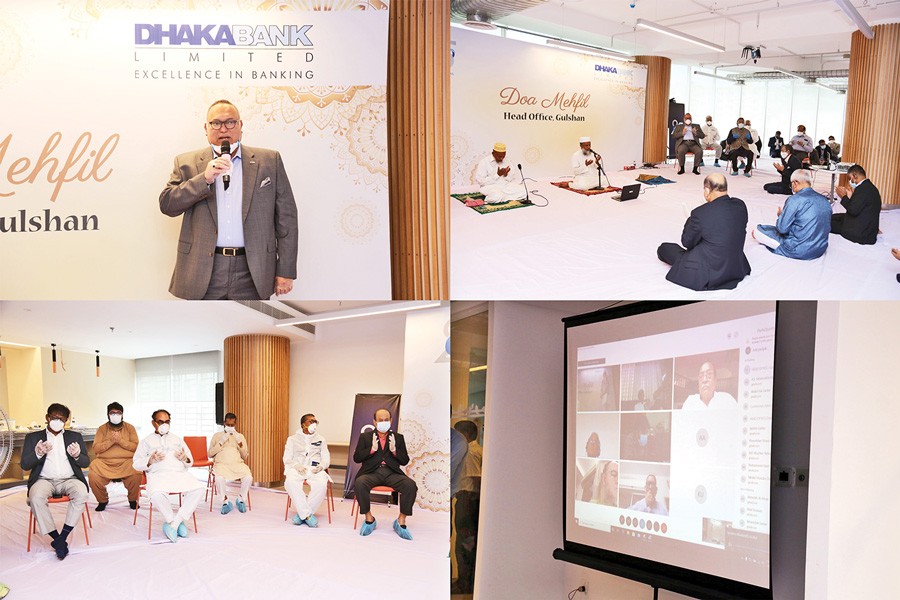 Dhaka Bank Limited on Sunday observed its 25 years of banking excellence in a simple way considering the current ongoing pandemic COVID-19 situation in Bangladesh.
A Doa Mahfil was arranged by maintaining social distance and safe hygiene rules at proposed Head Office, Gulshan. Dhaka Bank Gulshan Corporate Branch was also inaugurated on the occasion.
Mr. Reshadur Rahman, Chairman, Dhaka Bank Limited; Mr. Mirza Abbas Uddin Ahmed, Founder; Former Chairman Mr. A T M Hayatuzzaman Khan, Directors Altaf Hossain Sarker, Md. Amirullah, Abdullah Al Ahsan, Mirza Yasser Abbas were present at the program. Mr. Abdul Hai Sarker, Founder Chairman & Director; Mr. Tahidul Hossain Chowdhury, Vice-Chairman; Directors Messrs Jashim Uddin, Mohammed Hanif; Independent Director Md. Muzibur Rahman and A. S. Salahuddin Ahmed were also participated in the program through online platform.
Apart from them, former directors Mr. Khandaker Mohammad Shahjahan; Mr. Emranul Huq, Managing Director & CEO of the Bank with minimum number of employees were also present at the program.
The Chairman of the Bank in his speech conveyed homage to the Father of the Nation Bangabondhu Sheikh Mujibur Rahman in his Centenary Birthday. He also discussed on different issues of Bangladesh economy and the Bank.
After the programme, Mr. Emranul Huq, Managing Director & CEO, Dhaka Bank Limited, delivered speech towards customers, shareholders and well-wishers of the bank through Social Media platforms. The speech is available on Dhaka Bank Facebook fan page (facebook.com/dhakabank/) and website.