Digital tool facilitating quick remedy to investors'complaints
It acts as a deterrent too for respondents in last three years
---
Mohammad Mufazzal | Sunday, 29 January 2023
---

If there is an issue in hand, such as non-payment of dividends, delay in the settlement of share transactions or forced selling of holdings, investors have an easy tool to make a complaint.
The remedy is quick, thanks to the Customer Complaints Address Module (CCAM) launched by the Bangladesh Securities and Exchange Commission (BSEC) in September 2019.
More than three years later, the digital solution proves effective as, an official of the BSEC said, complaints, including those of non-payment of dividends, have been on the decline.
Mohammad Rezaul Karim, executive director and spokesperson of the BSEC, said the settlement of investors' complaints had been eased enough.
"Now investors need not come to our office for the purpose of submitting complaints," say for example, on non-payments of dividends or sale proceeds, he said.
Investors submitted as many as 1,301 complaints until January 26 this year, and more than 90 per cent of those have already been settled.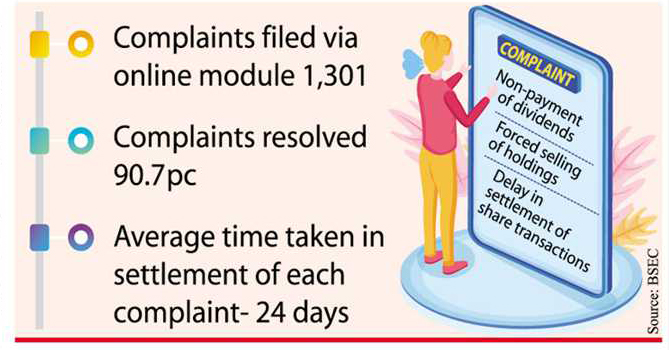 The regulator emphasizes that the rate of settlement keeps pace with the rate at which complaints are lodged online so they do not pile up.
On an average, it took 24 days to address each complaint while complainants had to wait for a few months to get a remedy before the introduction of the module, according to BSEC officials.
As per the data from the BSEC, investors have so far submitted 11 complaints this month, seven of which have already been resolved. In December, the platform received 15 complaints, eight of which were dealt with by the end of the month.
Investors submitted 261 complaints in total using the online mechanism in 2022, and 197 complaints were resolved by the year end.
The process to follow
The digital tool connects all possible stakeholders of the stock market -- bourses, stockbrokers, and merchant bankers so that complaints get through to the right respondents.
An investor needs to fill in their BO account number, cell phone number and e-mail address along with writing the allegation via the module on the BSEC website from any corner of the world.
After submission, the authority concerned automatically receives the complaint via market intermediaries, such as stock exchanges.
A countdown of two weeks begins with the submission of the complaint. If it expires and the complaint remains unaddressed, the securities regulator receives an alert from the platform.
Using the module, an investor can lodge complaints against non-payment of cash dividends, non-disbursement of stock dividends, non-payment of sale proceeds, and unauthorised sales of shares.
Besides, they can complain about delays in the settlement of share transactions, margin finance and interest, forced share selling, and financial losses due to non-transfer of shares.
The stock exchanges handle complaints filed against stock brokers or
TREC (Trading Right Entitlement Certificate) holders. The Central Depository Bangladesh Ltd (CDBL) deals with complaints against depository participants.
Other entities such as merchant banks, listed companies, and asset managers have been asked to dispose of complaints by their clients directly.
Though the module proved fruitful, some investors, unaware of it, take the lengthy path to file complaints manually.
"But the number of such complaints is very insignificant," said BSEC Director Md Anowarul Islam.
[email protected]