Drone photography reveals grimmer city dengue picture
36,000 probable habitats found, much higher than anticipated
---
Jasim Uddin Haroon | Sunday, 1 September 2019
---

Findings of drone photography have revealed approximately 36,000 probable habitats of Aedes mosquitoes in the city painting a much grimmer picture than initially anticipated.
The drone photography, the first of its kind in the country, was conducted at three spots -- Mirpur, Gulshan and Narinda -- covering 295 acres of areas.
The areas have been identified on the basis of dengue patients interviewed by the DG Health Services of the Ministry of Health and Family Welfare.
Drone photography is the capture of still images and videos by a remotely-operated unmanned aerial vehicle (UAV), or more specifically, a drone that after processing can accurately measure the beneath target objects with minimum timing.
It found 182 open tanks on the roofs, 45 reservoirs, 732 tyres, 24,216 flower containers, 1,098 air conditioners and more than 9,000 other objects, including large polythene sheets and small ditches.
People involved with the process of drone photography told the FE that there were some new dimensions in the findings. Objects like tyres and open water tanks also figured in the findings of the drone photography.
They said flower tubs topped the list of objects serving as breeding grounds for Aedes mosquitoes, but tyres, open tanks and polythene sheets figured in the findings as more probable sources of dengue than flower containers.
Commenting on the findings, Sazid Ibn Zaman, founder of Group Mappers, told the FE that abandoned tyres near bus-stands took them aback as these were the ideal places for breeding of Aedes mosquitoes.
By deploying drones, he said, they had identified more potential sources of Aedes mosquitoes.
"The findings suggest that the potential sources of dengue, a mosquito-borne disease, will be much higher than we usually estimate," he revealed.
The Dhaka North City Corporation conducted a survey covering more than 63,000 houses and other structures and found there over 33,000 potential sources of dengue. It conducted the survey in 36 wards in the northern part of the city.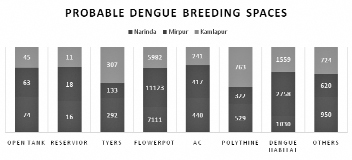 Mr Zaman, also an expert in GIS technology, said there were many new objects identified through the drone imagery on the three spots. The objects included tyres, polythene sheets and open water tanks.
"To my view, if we use the crowdsourcing method, it will give a more accurate and interesting picture of Aedes mosquito habitats," Mr Zaman said.
Crowdsourcing involves obtaining information or opinions from a large group of people who submit their data via the Internet, social media and smart phone apps. Uber drivers are the ideal example of the crowdsourcing.
Group Mappers and Eagle X, two separate organisations, worked on the drone deployment with support from the communicable disease control unit of the Directorate General of Health (DGH).
The findings were shared with the north city corporation and the DGH.
Iqbal Habib, member secretary of 'Bangladesh Poribesh Andolon,' said that building awareness would be the key to controlling the dengue outbreak which claimed over 50 lives so far.
He said this not time to play the blame game as the authorities concerned warned much earlier about taking action against the outbreak of dengue.
He said the use of mapping technology is a good move but it has some shortcomings like it cannot identify the larva of Aedes mosquitoes.
But Mr Zaman said there are more new devices that can be attached with the drone to detect the larva.
However, the average flying height of the drone was 250 feet from the ground level and it produced very high resolution images with less than 5cm GSD.
Over 70,000 dengue patients were hospitalised during the last eight months ending August 31. Of them, over 65,000 went home, according to the latest DGH health services bulletin.
[email protected]