DSEX surpasses 6900-mark on buying spree
Turnover crosses Tk 14b-mark after seven-week
---
FE REPORT | Thursday, 6 January 2022
---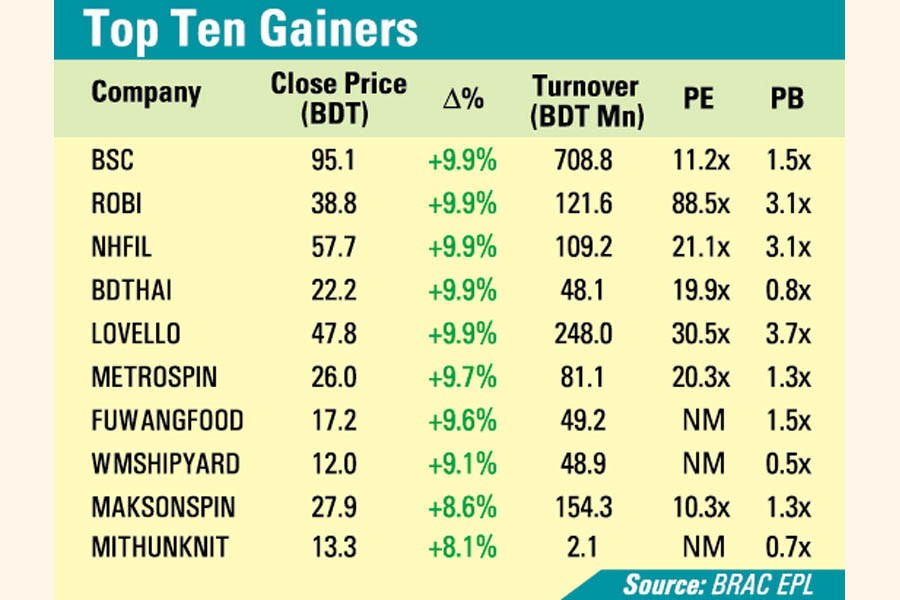 Stocks extended rally for the fifth straight session on Wednesday, with the key index of the prime bourse crossing 6,900-mark, as buoyant investors put fresh bets on major sector issues, beating Omicron worries.
DSEX, the prime index of Dhaka Stock Exchange (DSE), went up by 36.93 points or 0.53 per cent to settle at 6,929. The benchmark index added around 200 points in the past five straight sessions.
Turnover, a crucial indicator of the market, also crossed Tk 14 billion-mark after one and a half months and amounted to Tk 14.14 billion, climbing by 19.6 per cent over the previous day's tally of Tk 11.82 billion.
Market analysts said the investors continued pouring in their funds in stocks, putting their bet on hopes that the Omicron variant of Covid-19 would not be as devastating as many had previously thought.
Stocks continued to swell, beating worries of the rise in Covid-19 cases in the country as the investors continued pouring in their funds in the rising stock market, according to EBL Securities.
Market volatility and consecutive correction in last month prompted some investors to take positions on low-priced major sector issues, as a result the index logged a consecutive rise for the five straight sessions, said the stockbroker.
Top positive index contributors were Robi, Investment Corporation of Bangladesh, British American Tobacco, Brac Bank and Bangladesh Shipping Corporation. These five stocks jointly contributed to the rise of 27 points of DSEX, according to amarstock.com, a market data analyst.
Favourable macroeconomic indicators prompted investors to put fresh bets on financial institutions, telecom, power, food and banking sector stocks, taking the index higher, said a merchant banker.
Major sectors posted gains with financial institutions generating the highest return of 3.20 per cent, followed by telecom (2.20 per cent), power (1.0 per cent), food (0.60 per cent) and banking (0.50 per cent).
On the other hand, pharma sector saw 0.40 per cent correction.
Two other indices also edged higher with the DS30 index, comprising blue chips, rose 4.69 points to finish at 2,575 and the DSE Shariah Index advanced 7.56 points to close at 1,463.
Gainers took a strong lead over the losers as out of 378 issues traded, 218 advanced, 121 declined and 39 remained unchanged on the DSE trading floor.
A total number of 234,613 trades were executed in the day's trading session with a trading volume of 325.58 million shares and mutual fund units.
Beximco - the flagship company of Beximco Group-topped the turnover list with shares worth Tk 1.0 billion changing hands, followed by Bangladesh Shipping Corporation (Tk 708 million), Fortune Shoes (Tk 673 million), Power Grid Company (Tk 479 million) and Saif Powertec (Tk 418 million).
Bangladesh Shipping Corporation was the day's best performer, posting a gain of 9.94 per cent. Its stock price doubled in a month to close at Tk 95.10 on Wednesday, riding on higher profits in the last fiscal year.
The state-run corporation has reported a 73.67 per cent increase in its net profit during the fiscal year (FY) 2020-2021 to Tk 719.9 million thanks to a surge in shipping fares, and a decrease in ship operating costs.
Prime Insurance, whose share price rose more than 45 per cent or Tk 27 each in the last one month, was the worst loser, losing 5.75 per cent.
The Chittagong Stock Exchange (CSE) ended higher with its All Shares Price Index (CASPI)-gaining 172 points to close at 20,326 while the Selective Categories Index - CSCX-- rose 102 points to close at 12,207.
Of the issues traded, 215 advanced, 64 declined and 25 remained unchanged on the CSE. The port city bourse traded 14.36 million shares and mutual fund units with turnover value of more than Tk 434 million.