Dutch-Bangla Bank approves 25pc dividend
Thursday, 9 July 2020
---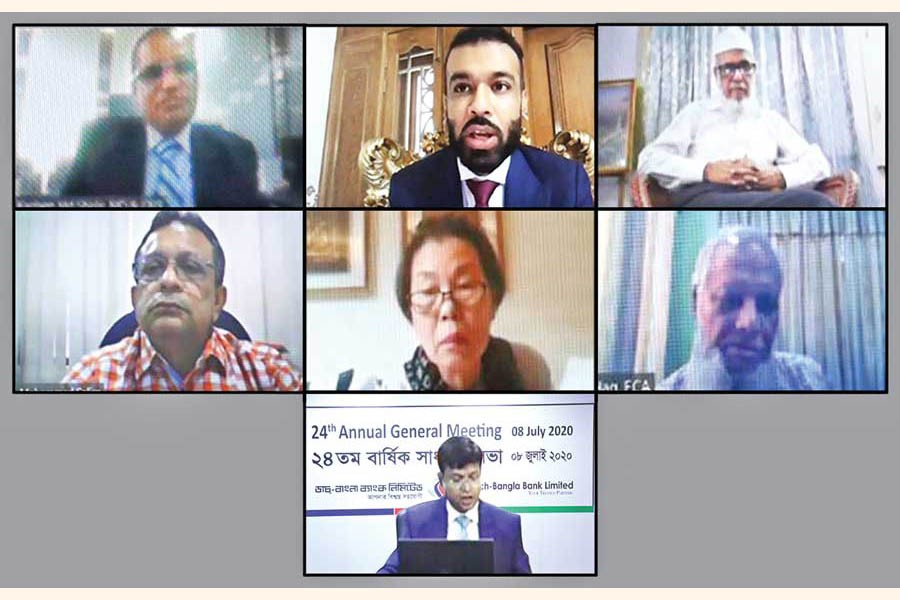 The 24th Annual General Meeting (AGM) of Dutch-Bangla Bank Limited was held on Wednesday through virtual platform under the Chairmanship of Sayem Ahmed, Chairman of the board of directors of the bank, said a statement.
In the AGM, shareholders approved 25 per cent dividend (15 per cent cash dividend and 10 per cent stock dividend per share) for the year 2019.
Despite of Covid-19, a large number of shareholders virtually participated in the AGM of the bank. The chairman welcomed the shareholders in the AGM.
The audited financial statements for the bank for the year ended December 31, 2019 were placed before the AGM and a number of shareholders discussed the performance of the bank. The shareholders made various observations and suggestions on performance of the Bank for the year 2019.
The meeting approved the re-appointment of Sayem Ahmed, Abedur Rashid Khan and Tang Yuen Ha Ada as directors of the bank and also approved the appointments of Ekramul Haq, FCA and Mohammed Salim, FCMA, CPFA as independent directors of the bank.
The meeting also unanimously re-appointed M/s. Hoda Vasi Chowdhury & Co., Chartered Accountants as the external auditor of the Bank and M/s. A. Qasem & Co. as Corporate Governance Compliance Auditor of the Bank for the year 2020.