Eco-friendly light trap, perching methods cut cost, ensure healthy-crops
Our Correspondent | Monday, 15 October 2018
---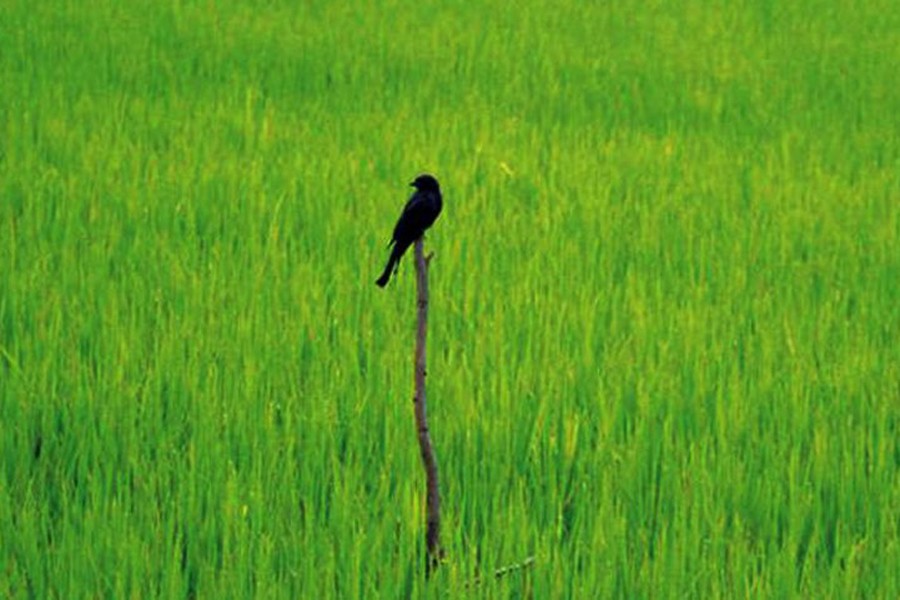 RANGPUR, Oct 14: The peasants at different areas under the district are showing their interest in cultivating T-Aman paddy using eco-friendly light trap method introduced by the Department of Agriculture Extension (DAE) for pest management on the paddy fields.
A good number of farmers in the district are achieving remarkable success in controlling pest on Aman paddy by using this method as an alternative to pesticides, sources said.
Sources said this modern technology has become a boon to the farmers as it has reduced production cost to a great extent and enhanced rice production significantly.
Farmers in different upazilas including Badarganj, Kawnia and Pirganj are showing much interest in adopting the method instead of toxic pesticides in order to protect their paddy fields from pest attack.
According to DAE official sources light trap is a natural pest management method of paddy that needs a lantern, charger light or electric bulb attached with a stick and a pot with detergent and kerosene mixed clear water and the pot is put under the lights to tempt the insects.
Different types of pests are attracted to like fall into the water and die eventually in the homemade pesticide. Types of pest can also be identified by this method as well.
Usually, the farmers under the region have to use huge amount of toxic pesticides to save their Aman fields from being destroyed by different types of pest attack. But this eco-friendly system has changed the scenario.
The method has helped the cultivators refrain themselves from applying harmful pesticides or insecticides on their fields for repelling pests, sources alleged.
Some paddy cultivators under Gangachara, Badarganj and Kawnia upazila told this FE correspondent that they are to spend a huge amount of money for using insecticides on their fields.
On the other hand they need to spend a nominal cost for using light trap method.
DAE, Rangpur official sources said a many farmers in the region have become benefited by using light trap technology and more farmers are also showing eagerness in the eco-friendly method.
The department is also conducting motivational programmes in this regard to encourage the paddy cultivators to adopt this method, sources added.
Our Rajshahi correspondent adds: Eradication of insects from the cropland by using birds is becoming popular in Godagari and Paba upazilas under the district.
This environment-friendly method of elimination of insects from croplands is commonly known as Perching method.
Through this method, birds are allowed to sit on branches or sticks erected in the field 30 to 35 feet away each and to catch flying insects and consume those.
Birds of various species, specially finches sit on those branches or sticks tied horizontally in the field where birds used to sit and catch flying insects, larvae and eggs of insects to consume.
There are two types of Parching methods- dead perching and live perching. In case of dead perching dried, dead branches or sticks are tied horizontally some eight to ten feet over the field while in live perching some trees like Diancha or banana are planted inside the field on whose branches birds sit and catch and eat insects.
This method of removing harmful insects from the field without any cost and without applying any pesticides is becoming popular among farmers.
According to the sources at the Department of Agriculture Extension (DAE), farmers of the upazilas used to cultivate fine variety of Chini Atap rice in many fields.
Due to aromatic flavour of the plants and the rice, insects attack this variety or rice in a large scale. Moreover, insect attack all sort of crops and vegetables in the field.
Farmers were using toxic insecticides in the fields to eradicate the insects which have a far reaching effects on environment and on human health.
The price of insecticides is also exorbitant. To eradicate the insects from the crop field, the parching method has been proved as one of the most effective, cost free methods.
On the tree branches and sticks and dried braches erected inside the field birds of various species like Shalik, Finch, nightingale, storks sit by the day time and owl, bats and storks sit at night and catch insects and consume those.
By using this method, farmers were producing toxic insecticides free crops and vegetables without any cost and at the same time helping to maintain balance of the environment.
The production cost of the crops and vegetables are also being dropped for using the method. As a result, the method was getting immense popular in various places of Rajshahi district, he added.