Eid returnees face sufferings on arrival
FE Report | Thursday, 13 June 2019
---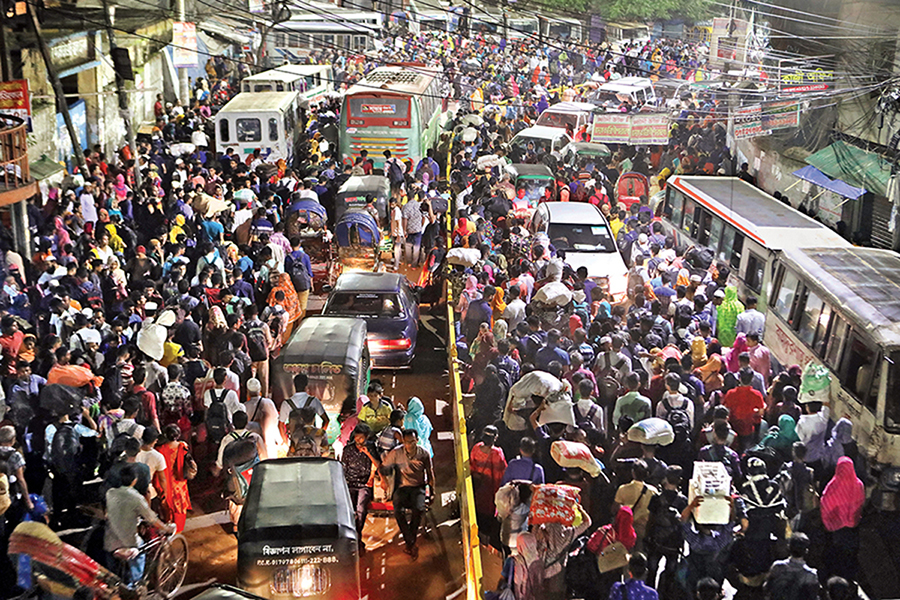 SADARGHAT TERMINAL AREA AT 4:30AM WEDNESDAY: Eid holidaymakers on their return to the capital city are surging towards the Bahadur Shah Park in their thousands in search of transports — FE photo by Shafiqul Alam

People returning to the capital city from the southern districts after celebrating Eid are being subjected to immense sufferings on arrival at the Sadarghat launch terminal by profit-hungry launch owners and all types of passenger motor vehicles.
It has become a practice on the part of the large passenger launches running between Dhaka and Barishal on the occasion of two Eids to break their regular schedules and cash-in on the onrush of passengers. This has become more of a routine affair in recent years.
The large passenger launches these days leave the Barishal river port ahead of the schedule, rush towards Dhaka in full speed and reach the Sadarghat terminal between 2am and 3am. The launch crews force the passengers to disembark so that the vessels can start their return journey
to Barishal, breaking the regular schedule. The launches go empty but return overloaded with passengers.
The passengers who are forced to disembark remain stuck up at the terminal building for three to four hours until dawn. But even at dawn, they are unable to hire passenger vehicles to reach their destinations since police do now allow vehicles to come in to the terminal building. The on-duty traffic police, allegedly, allow vehicles only after receiving illegal payments.
Finding no other way, the launch passengers in their thousands do start their journey on foot with a hope of hiring some transports near Bahadur Shah Park and beyond.
Many passengers vented their anger at the relevant authorities for not taking the passenger launch owners to task for breaking the schedule and subjecting people to untold sufferings.