Electric vehicle revolution and its future
Mohammed Salman Rahman | Wednesday, 8 December 2021
---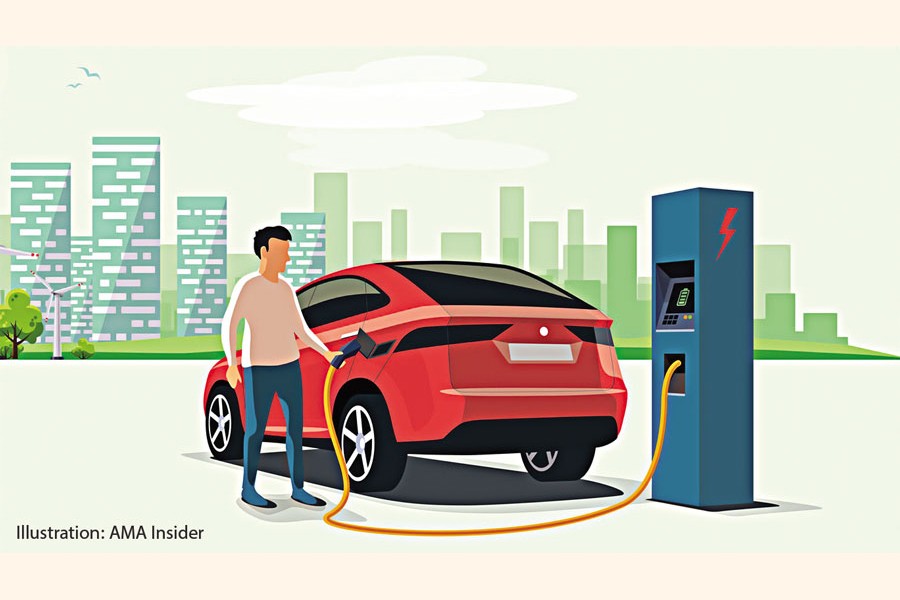 Just a few days back, Elon Musk, the co-founder of Tesla Motors, became richest man in recorded history with over USD292 billion as his net worth. The company which brought him the fabulous fortunes, Tesla, now has a market cap of around $1.118 trillion. Those are some impressive numbers -- even more so when you find out that Daimler, the company which made the first-ever car in the world, has a market cap of around $107 billion, and Ford, which literally brought cars to the masses with their Model T, sits at a modest 69 billion dollars. Electric vehicles showed the tycoon the treasure caves.
Certainly, electric vehicles have shown robust growth even within the pandemic. In the top three automotive markets, China, the US and the EU, EVs accounted for almost 26 per cent of all new vehicles sold. According to the market-research firm IDTechX, electric vehicle sales might surpass 5.0 million units in 2021, jumping 160 per cent from 2020 and making it the best year for EV sale. China currently accounts for 12 per cent of the Global EV sales.
In fact, COVID-19 was a big boon for electric vehicles. Existing Global Governmental support for electric vehicles was supplemented with Covid-related stimulus measures. Many countries were already establishing and strengthening e-mobility initiatives prior to the pandemic, with crucial policy measures such as tax incentives and stricter car CO2 emission requirements. In early 2020, EV-purchase incentives grew, particularly in Germany, France, and Italy. As a result, electric-vehicle sales in Europe increased by 55 per cent in the first half of 2020 compared to the same period in 2019.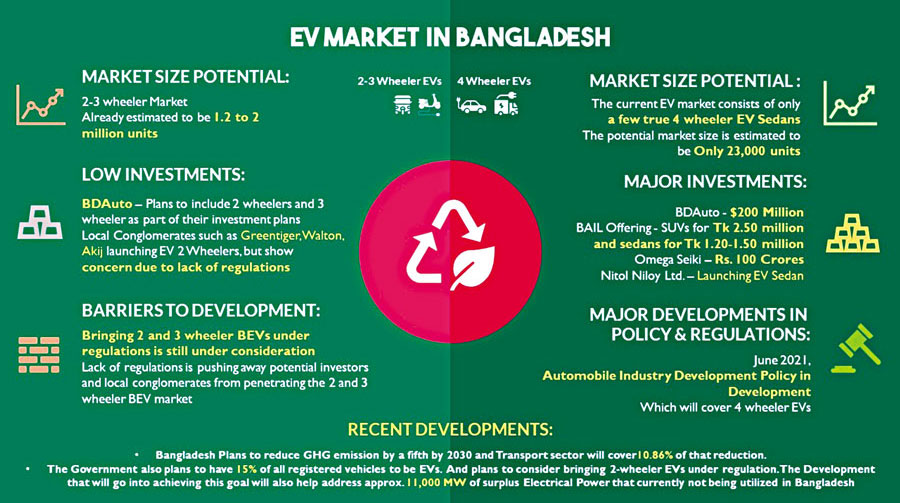 Even the major region with the least EV penetration, the United States of America, announced big on electric vehicles in April 2021. President Joe Biden proposed a 50-per cent electrification target by 2030, with a USD174 million government commitment to supercharge electric-car uptake, federal tax credits, research and development on charging and batteries etc. As the last bastion of gas-guzzling muscle cars and huge pickup trucks, this renewed government support for EVs has seen even Ford release concepts of an Electric Pickup truck.
Understandably, all bodes well globally for the EV industry, but how does it stack up in Bangladesh? In 2020, the Ministry of Industry led the drafting of the Automobile Industry Development Policy. The policy was given the go-ahead in June 2021. It extensively promotes electric vehicles and encourages SKD (Semi Knocked Down) Assembly and OEM (Original Equipment Manufacturing) for EVs. The policy proposes a tax holiday for electric-vehicle manufacturing and assembly. More importantly, it also introduced a conversion mechanism of KWH into CC, so that registering EVs becomes much easier. Following the understanding that positive government policy might hit the EV scene soon, many organizations have moved forward to start producing electric vehicles in Bangladesh.
Bangladesh Auto Industries Ltd. (BAIL) is investing around $200 million in Bangladesh to produce electric SUVs, sedans, hatchbacks, two-wheelers, and three-wheelers locally. BAIL intends to offer SUVs for Tk 2.50 million and sedans for Tk 1.20-1.50 million, respectively. Omega Seiki, an Indian organization, will build an electric-vehicle facility in Bangladesh. With an investment of Rs 1000 million, a manufacturing unit will be built near Dhaka. Nitol Motors is planning to launch an electric vehicle that will be locally assembled. Suvare is the name of the model, which is the size of a standard car and will cost around Tk 12 lakh.
Electric vehicles certainly have a big role to play in Bangladesh. Bangladesh is the seventh-most vulnerable country in terms of the Climate Risk Index 2021 by Germanwatch. However, it only emits 0.67 tons of carbon per capita, one of the lowest in the world. Bangladesh also plans to become a developed nation by 2041, which will require posting a constant growth rate of more than 5.0 per cent up till 2041.
Economy and climate justice aside, currently, the installed capacity for power (as of October 2021) amounts to around 25,235 megawatts, while the highest demand around 13,800mw. This huge gap in installed capacity and demand is becoming a big concern for the government. The Government is looking forward to increasing the usage of electricity, which is around 560Kwh per capita currently.
Bangladesh put a big plan in reducing carbon emissions in this year's COP 26. In a best-case scenario laid out by the government for its NDC (nationally determined contribution) at the COP 26 in Glasgow, transport sector will account for almost 11 per cent of the emission-reduction target. A greater emphasis on electric mobility is certainly a way forward regarding these issues.
In the top end are there ample investments for electric vehicles. But the estimated market size for new vehicles in Bangladesh is around 23,000 units. This creates a disconnect ambiance as EVs have the potential to bring mobility to the masses. There has been a silent revolution going on in the electric-powered mobility sector in Bangladesh. In a joint study by Asia Foundation and Rahimafrooz it was estimated that Easy Bikes ferry around 25 million people in Bangladesh each day and have created employment for 3.0 million people.
Industry-insiders and experts estimate that there might be around 1.2 million to 2.0 million of these battery- powered electric vehicles, or BEVs, in Bangladesh. These BEVs can come in any shape or size. These are three- wheelers with a locally made body, differential at the back, a locally produced 60V battery and other locally running gears. These include TomToms to Nosimons (collectively often referred to as Easy Bikes) to the touted 'dangerous' battery-powered rickshaws. This BEV industry has grown organically from the battery-recycling industry, and certainly a product of the increased access to electricity and the abundance of Solar Home systems in rural and peri-urban Bangladesh.
Another part of the spectrum is Electric Scooters and Foreign Bodied Easy Bikes. Both types of BEVs are wildly popular. In the case of Foreign Bodied Easy Bikes, the bodies come from China, and they are assembled locally. When paired with a local battery and running gear, this becomes a more attractive vehicle which can sit up to six people. These can be seen extensively in the tourist city of Cox Bazar under the colloquial name Moyuri. A number of local firms are also looking to enter the market. BAIL has plans for two-wheelers and three-wheelers in their product roadmap. A local entrepreneur has set up Bagh Eco Motors, which is producing a three-wheeler named Bagh.
As for electric scooters, many brands have been a mainstay since 2009, especially Green Tiger, Exploit and Akij. Walton has announced their venture in e-mobility with their offering Takyon. Local giants such as Runner, Akij, Nitol etc are carefully eyeing the market. Currently, the government is yet to formalize two-wheelers and three- wheelers under a policy. While speaking to Mr. Salimullah, Senior Assistant Secretary in the Ministry of Industry, he remarked that the government plans to have 15 per cent of all the new registered vehicles be powered by electricity by 2030. The government is looking carefully at the two-wheeler and three-wheeler BEVs and may bring them under regulation soon.
China, Southeast Asia, especially Vietnam, Europe and India have been the leader in electric two-wheeler manufacturing and sales. In 2020, 25 million or almost 35 per cent of all global two-wheeler sales were electric. This far outstrips the 5.0-per cent contribution margin of EVs in the four-wheeler segment. In Vietnam, electric two-wheelers account for almost 14 per cent of all the new electric, and sales are picking up in India as well. In India, ride-hailing organization Ola has created the largest electric two-wheeler 'future-factory' in the world with the capacity of producing 10 million vehicles per year. Priced under one-lakh rupees, Ola S1 and S1 pro plan to take on heavyweights such as Hero, Bajaj and TVS.
Electric vehicles are purported to save the planet, reverse climate change, and make the polar bears happy. And while being excited for the future prospect of electric vehicle when the Tesla Model S Plaid smokes the Lamborghini Aventador SV from naught to sixty relegating the gas-guzzling supercars to the annals of history, one must remember that the humble Moyuri is also playing its part in saving the world.
Salman Rahman is a Partner at Inspira Advisory and Consulting Limited.
[email protected]