European markets now open for ACME Lab
FE Report | Tuesday, 12 March 2019
---
ACME Laboratories has received the certificate of GMP compliance from UK MHRA (Medicines and Healthcare Products Regulatory Agency of UK).
ACME Laboratories, the country's oldest pharmaceuticals company, received the certificate following successful inspection of its solid dosage unit (SDU) at Dhulivita, Dhamrai in Dhaka, said a disclosure posted on the Dhaka Stock Exchange (DSE) website on Monday.
"This success will open the doors for the company to enter UK and other European markets," said the disclosure.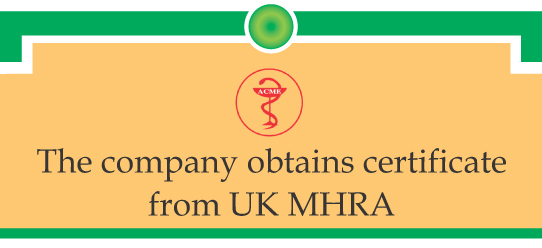 Each share of the company closed at Tk 90.90 on Monday on the prime bourse. In the last one year, its share traded between Tk 78.30 and Tk 109.50.
ACME, which was listed on the DSE in 2016, disbursed 35 per cent cash dividend for the year ended on June 30, 2018.
In 2016 and 2017, the company also disbursed 35 per cent cash dividend each.
The company's earnings per share (EPS) in six months for July-December, 2018, stood at Tk 3.69 for as against Tk 3.81 for July-December, 2017.
The net operating cash flow per share (NOCFPS) was Tk 4.61 for July-December, 2018 as against Tk 6.09 for July-December, 2017.
The net asset value (NAV) per share was Tk 83.56 as on December 31, 2018 and Tk 83.39 as on June 30, 2018.
The ACME's paid-up capital is Tk 2.11 billion and authorised capital is Tk 5.0 billion, while the total number of securities is 211.60 million.
The sponsor-directors own 40.12 per cent stake in the company, while institutional investors own 30.60 per cent, foreign investors 0.74 per cent and the general public 28.54 per cent as on February 28, 2019, the DSE data shows.
The company is engaged in manufacturing and marketing of generic pharmaceuticals formulation products including human, veterinary and herbal drugs.
The products of the company are sold in domestic as well as international markets.
The history of Acme Laboratories dates back to 1954, when a proprietorship firm was founded at Chashara in Narayanganj on a three-bigha land with around 33 people to manufacture drugs.
The firm relocated its plant to Dhamrai in Savar on a land of 10 acres after converting into a private limited company in 1976. Commercial operations at the modern plant began at the end of 1983, according to its official website.