Exports shrink by 6.0pc in H1
December garment shipment edges up
---
FE REPORT | Monday, 6 January 2020
---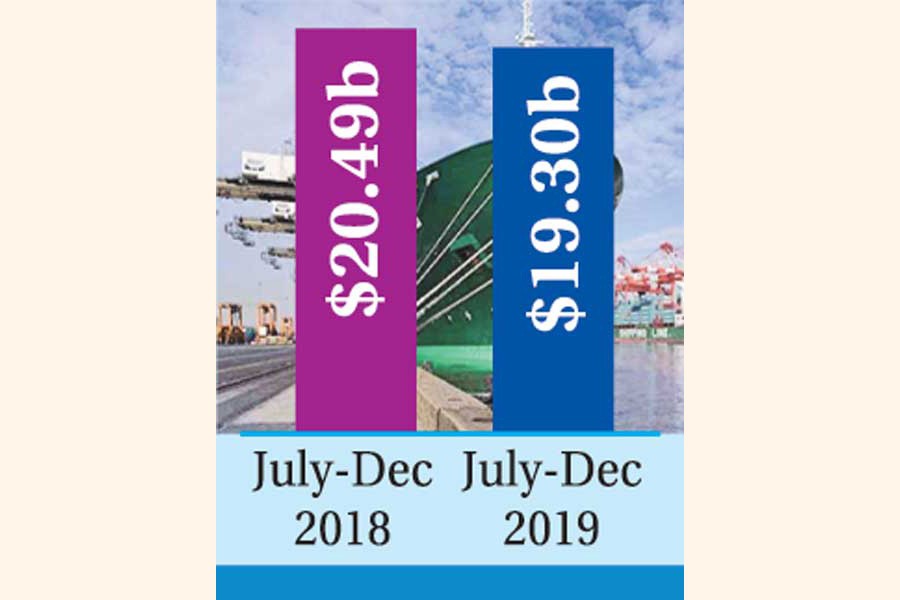 Merchandise shipments fell by 5.84 per cent during the first half of the current fiscal year, as export earnings continue to witness downtrend in recent months.
Total export earnings from July to December of FY 2019-20 reached $19.30 billion against $20.49 billion fetched during the same period of the last fiscal.
The income also fell short of the target by 12.77 per cent set for the period, according to the latest data of the state-run Export Promotion Bureau (EPB).
The single-month export earnings in December 2019, however, edged up by 2.89 per cent to $3.52 billion.
Clothing sector is the country's top foreign-currency earner accounting more than 84 per cent of total overseas sales.
Exporters and officials have attributed the decline in prices of apparel items to a drop in export receipts.
Overall export earnings from the garment items-both knitwear and woven apparels- fell by 6.21 per cent in the first half of this fiscal.
The apparel sector fetched nearly $16.02 billion during the July-December period of FY '20 against $17.08 billion during the same period a year earlier.
Earnings from woven garments fell by 7.28 per cent to $7.81 billion in the first six months of this fiscal, the EPB figures show.
Proceeds from knitwear exports during the period also fell by 5.16 per cent to nearly $8.20 billion.
Woven and knitwear brought in $8.43 billion and $8.65 billion respectively in July-December period of last fiscal.
Earnings from other key sectors also fell during the first half of the fiscal, compared with the year-earlier period.
The EPB data showed earnings from home textile stood at $370.1 million, down 9.5 per cent from $408.94 million.
Earnings from home textiles also fell short of the target by 14.59 per cent.
Exporters said single-month growth does not show the clothing sector's turnaround.
President of the Bangladesh Garment Manufacturers and Exporters Associ-ation, or BGMEA, Dr Rubana Huq termed the December growth "nominal" compared to previous years'.
"December is a month when exports soar," she said.
RMG exports grew by 15.66 per cent during the first half of FY 2018-19 compared to the same period of 2017-18, she said, adding the growth is 6.21 per cent negative in July-December of the current fiscal.
Just an increase in December does not signify the trend of the sector "turning around" as such, she noted.
Though December and January are peak months, exports have had no significant gain, she said adding the first two weeks of December remained negative while the second half picked up slightly.
"We are losing competitiveness and won't be able to sustain the general expectation of riding on high tides," Ms Huq said, calling for policy support.
According to the EPB data, earnings from leather and leather goods export fell by 10.61 per cent to $475.83 million from $532.3 million.
Jute and jute goods exports during the period, however, climbed by 21.55 per cent to $511.73 million from $421.02 million.
Agro-products like vegetables, fruits and spice exports stood at $523.90 million, recording a 1.21 per cent growth.
Pharmaceuticals exports grew by 5.71 per cent to $73.69 million.
Frozen and live fish exports hauled $290.5 million in the first six months of this fiscal, registering a 7.7 per cent negative growth.
Exports of engineering products fell by 2.35 per cent to $168.04 million from $172.08 million.
The country brought in $40.53 billion from goods exports during the last fiscal, of which some $34.13 billion came from textiles and clothing alone, the data shows.