Fall in large-caps pulls DSEX down
Pharma, power, miscellaneous sectors suffer the most
---
FE REPORT | Monday, 26 September 2022
---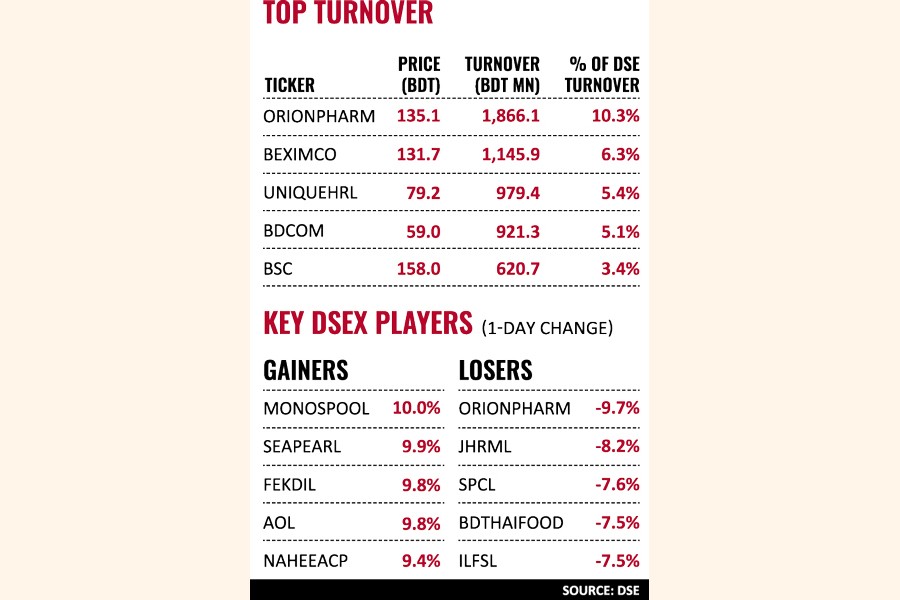 Stocks began the week in the red as large-cap shares from pharmaceuticals, power and miscellaneous sectors nosedived on Sunday following their recent price surge.
The market opened on a positive note but the morning optimism failed to sustain after the first-hour trading due to heavy selling pressure on selective stocks.
DSEX, the key index of the Dhaka Stock Exchange (DSE), finally ended the day 48.83 points or 0.74 per cent lower at 6,515, after gaining 12 points in the previous trading session.
Two other DSE indices also followed suit. The DS30 index, comprising blue chips, plunged 35.77 points to finish at 2,330 and the DSE Shariah Index (DSES) shed 15.71 points to close at 1,421.
Turnover, a crucial indicator of the market, however, however, rose to Tk 18.10 billion on the premier bourse, 8.64 per cent up from the previous day's turnover of Tk 16.66 billion.
Two most-traded firms -- Orion Pharma (Tk 1.79 billion) and Beximco (Tk 1.14 billion) -- jointly grabbed almost 17 per cent of the day's total turnover.
Market analysts said the investors preferred to book profit on quick-gaining stocks with an apprehension of dismal earnings forecasts of the major companies.
The benchmark equity index tumbled as major stocks from pharmaceuticals, power and miscellaneous sectors witnessed intense selling pressure after their recent price appreciations, according to a merchant banker.
The large-cap pharma stocks such as Orion Pharma, Beacon Pharma and Beximco Pharma suffered losses of 9.69 per cent, 6.23 per cent and 5.25 per cent respectively.
Large-cap power sectors companies like Shahjibazar Power and United Power plunged 7.64 per cent and 2.10 per cent respectively while Beximco and Bangladesh Shipping Corporation from miscellaneous sector suffered losses of 2.08 per cent and 6.45 per cent respectively.
Five large-cap firms -- Beacon Pharma, Beximco Pharma, Orion Pharma, United Power and Beximco -- jointly wiped out 43 points from the DSEX, according to amarstock.com, a market data analyst.
Stocks tumbled as the market concentrated on a handful of stocks while other scrips plunged near to the floor-price due to recent corrections which made investors reluctant to take new positions, rather opting for booking profit, said EBL Securities.
The sellers outnumbered on the day's trading floor and decided to take profit from the recently rallied large-cap stocks, said the stockbroker.
The stock market reverted to the losing streak amid global interest rate hike while the sale pressures of some of the jittery investors lowered the broad index, according to International Leasing Securities.
The worldwide interest rate hike to curb inflation caused the decrease in major indices across the world as well as in the local market, said the stockbroker.
The pharmaceuticals sector dominated the turnover chart, grabbing 18.30 per cent of the day's total turnover, followed by miscellaneous (14.80 per cent) and engineering (11.40 per cent).
Most of the large-cap sectors posted negative performance. The pharmaceuticals saw the highest loss of 2.06 per cent, followed by power 1.16 per cent, telecom 0.12 per cent, banking 0.07 per cent and food 0.04 per cent.
Most of the traded issues remained unchanged due to the 'floor price' restriction. Of the 370 issues traded, 117 declined, 93 advanced and others 160 remained unchanged on the DSE trading floor.
Orion pharma became the most-traded stock with shares worth Tk 1.79 billion changing hands, followed by Beximco (Tk 1.14 million), Unique Hotel & Resorts (Tk 976 million), BDCOM Online (Tk 845 million) and Bangladesh Shipping Corporation (Tk 621 million). Bangladesh Monospool Paper Manufacturing Company was the day's top gainer, posting a 9.97 per cent gain while Orion Pharma was the day's worst loser, losing 9.69 per cent, after soaring 28.74 per cent last week.
The Chittagong Stock Exchange (CSE) also saw sharp decline with the CSE All Share Price Index (CASPI) losing 162 points to settle at 19,183 and its Selective Categories Index (CSCX) shedding 98 points to close at 11,498.
Of the issues traded, 83 declined, 74 advanced and 83 issues remained unchanged on the CSE trading floor.
The port-city bourse 49.36 million shares and mutual fund units with a turnover value of Tk 1.26 billion.