First CSRA in Bangladesh
Monday, 7 July 2014
---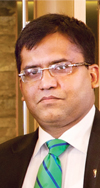 Mr. Md. Touhidul Alam Khan, Deputy Managing Director of Modhumoti Bank Limited has been qualified as Certified Sustainability Reporting Assurer (CSRA) from Jakarta-based National Centre for Sustainability Reporting (NCSR), a registered Organisational Stakeholder of the Global Reporting Initiative (GRI), Netherlands. Earlier, he has also been graduated as Certified Sustainability Reporting Specialist from the same institute.
In Bangladesh, Mr. Khan is the first Sustainability Reporting Assurer who earned the designation CSRA. Through this certification, he will be able to assure the companies' sustainability reports individually according to the AA1000AS standards set by AccountAbility and will also be able to verify sustainability performance and processes of a company besides providing assurance certificate to the sustainability reports.
Touhidul Alam Khan is an Associate Member of Institute of Cost & Management Accountants of Bangladesh (ICMAB), Associate Fellow Member of Institute of Islamic Banking & Insurance (IIBI), UK and Certified Professional of Basel iii Compliance Professionals Association (BiiiCPA), USA. He has a number of national and international publications on green banking, sustainability reporting and GRI, among others, which have been highly appreciated. As a multifaceted management and dynamic banking professional, Mr. Touhid has extensive national and international training experiences and is also a frequent lecturer in various educational and training institutes.
"Business has obligations beyond its basic responsibility to its shareholders which includes its stakeholders, customers, employees, government and the people of the communities in which it operates. To bring accountability and transparency to the society, in terms of organization's economic, environmental and social performance, the GRI reporting system has been designed for use by the organizations of any size, sector, or location.