Five die of dengue, 541 more fall ill
Proper management of rooftop gardens suggested
---
FE Report | Thursday, 12 September 2019
---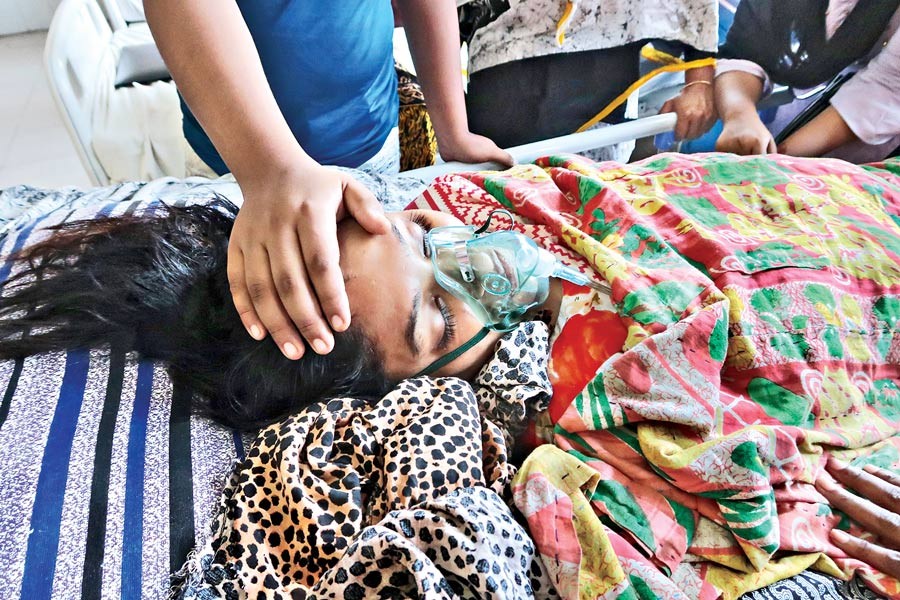 Five people, including two women, died of dengue on Wednesday in Jashore, Khulna, Barishal and Dhaka.
However, the number of new patients showed a declining trend as 541 people were hospitalised across the country on the day.
In Jashore, two women lost the battle with the mosquito-borne disease on Wednesday morning.
The deceased were identified as Jahida Begum (44), wife of Quader of Hanua village, and Jahanara Begum (35), of Manshimnagar village in Manirampur upazila. Both were hospitalised with dengue on September 9.
The other victims were identified as Khadija (2) in Dhaka, Jihad (14) in Barishal and Rahima Begum (50) in Khulna.
Two-year-old Khadija died of the disease at the Dhaka Medical College Hospital (DMCH) at around 4.00pm, sources said.
In a critical condition, the kid was taken to the DMCH from another city hospital, her uncle Ibrahim Hossain said.
However, the number of patients testing positive for dengue declined significantly in the 24 hours through Wednesday morning compared to the previous period.
Some 541 new dengue patients were admitted to different hospitals across the country until Wednesday morning. The figure was 772 on the previous day, according to government statistics.
Of the new patients, 221 were admitted to hospitals in the capital city and the remaining 413 in other districts, the data available with the Directorate General of Health Services (DGHS) revealed.
Until Wednesday morning, 634 patients were released from different hospitals, the DGHS data said. 75,225 dengue patients got discharged so far after treatment.
Still 3,165 dengue-infected patients were undergoing treatment in hospitals.
The Institute of Epidemiology Disease Control and Research (IEDCR) recorded 197 death cases presumed to have resulted from dengue.
However, the IEDCR confirmed 60 deaths caused by dengue after analyzing 101 cases so far.
A number of government and non-government agencies are working to create awareness about the mosquito-borne disease.
Environmentalists' platform Poribesh Bachao Andolon (POBA) organised a roundtable at its office on the day.
Discussants there underscored the need for proper management of the rooftop gardens in the capital city to help check the spread of Aedes, the mosquito responsible for dengue virus.
They said some unscrupulous building owners were now abandoning rooftop gardening, very essential for the city landscape.
They also presented a 10-point demand including policy support, proper management and taking necessary steps to protect the rooftop gardens.
They also called for providing fiscal benefit to the gardeners and set up a 'city agriculture wing' under the ministry of agriculture.
saif.febd@gmail.com