Flood badly damages rural roads in Sylhet division
Our Correspondent | Thursday, 12 September 2019
---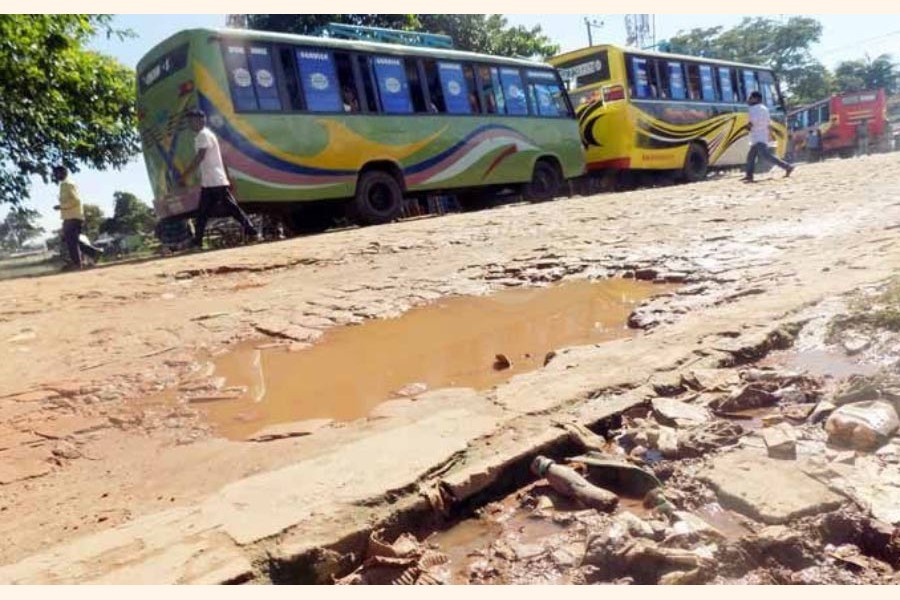 SYLHET, Sept 11: Road communication in the rural areas of Sylhet division has been badly damaged by the floods, while plying of vehicles had been suspended in many areas.
According to an official report prepared after the severe flood, 1,179 kms of rural roads in four districts of the division were badly damaged. The damage is worth at least Tk 3.0 billion.
A detailed report in this regard had been sent to the higher authority, said an official at the LGED's divisional office, adding, "It will take time to start the repair work."
The report mentioned highest 818 km roads have been damaged in Sunamganj district while the lowest 34 km is in Moulvibazar. Many culverts and bridges have been damaged totally while innumerable potholes were created on many roads.
Bricks or carpeting at many points had been washed away too. The important inter district roads like Biswanath-Jogonnathpur and Biswambharpur-Tahirpur road are in worst state, said a number of locals and officials.
The plying of vehicles on Sunamganj-Tahirur road and Biswambharour-Anwarpur roads remained suspended for weeks, said Tahirpur upazila chairman Karuna Sindhu Chowdhury. These need immediate repair as there is no alternative road for the locals to use, he added.
In Sunamganj, 275 rural roads were damaged with an estimated loss at Tk 1.9 billion.
In Sylhet district the loss is preliminarily estimated at Tk 800 million as 261.57 km roads in 13 upazilas had been affected. In Habiganj district the damage on 65.86 km on 53 roads of eight upazilas has been estimated at Tk 120 million while damage of 34 km on 10 roads in four upazilas under Moulvibazar district had been estimated at Tk 80 million.
forsylhet@gmail.com