Looming automation shift
Forces of change in BPO industry
Tanvir Ibrahim and Fabbiha Zahin Raidah | Sunday, 25 November 2018
---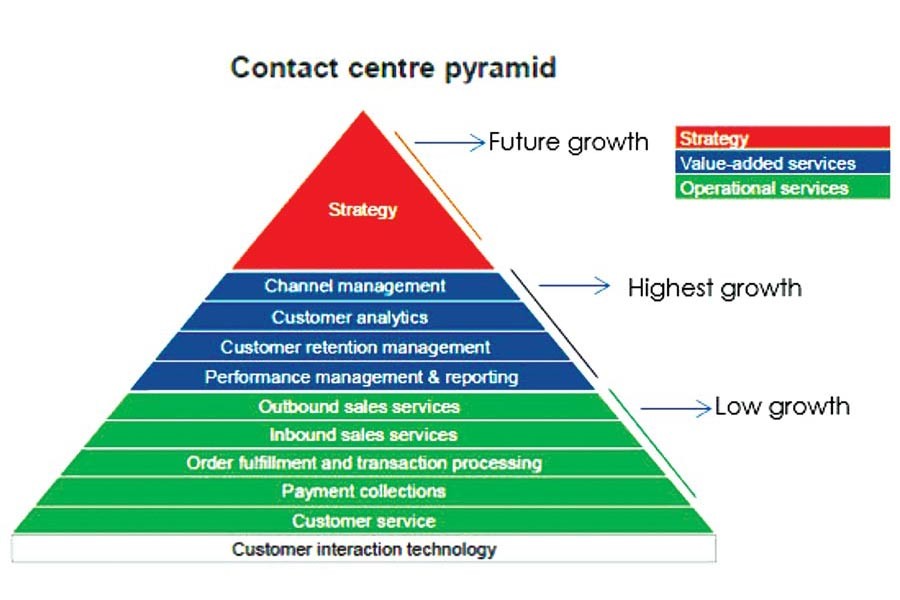 Artificial Intelligence, big data, cloud computing, social media, and mobile technology are the key trends in making any industry elevate its business process. Industry optimization reaches its peak when these technological developments play a key role in the highly tech-savvy industry, Business Process Outsourcing (BPO).Keeping up the pace with the key trends, the global BPO Services market is projected to reach USD 262.2 billion by 2022 from the total revenues of USD 144.9 billion earned in 2017. Previously, the BPO sector was limited to deliver solutions towards cost reduction besides profit optimisation. Now, with the introduction of Business Process Management (BPM), companies are able to cut down additional back-office administrative costs and look out for innovative ways to focus on business development.
According to a report on the IT-ITeS industry of Bangladesh by Everest Group, over the past five years, the offshore global IT-ITeS market has grown gradually with a CAGR of 8.6 per cent to reach USD 180 billion in 2017. It is also stated that by the end of 2025, the IT-ITeS industry in Bangladesh will grow to USD 4.8 billion by service offerings ranging from transactional IT-Application Development and Maintenance (ADM) to niche services such as Internet of Things (IoT), virtual reality/ augmented reality and big data analytics. The giants such as IBM, TCS, NTT Data, Wipro, etc. are leveraging location through delivery centre set-ups and joint ventures with local companies. Even though India and the Philippines have been the prominent delivery destinations, numerous next-wave locations including Bangladesh have emerged with niche pockets of fortes and exclusive schemes in terms of talent markets, cost structures, and diverse threat profiles.
Cloud and Big Data to drive the BPO benefits:
The escalating business process as a service (BPaaS) market reflects the desire to outsource entire workflows. According to a report by Grand View Research, the global market is projected to grow to USD 72.25 billion at a CAGR of 8.7 per cent from 2017 to 2025 from USD 32.66 billion in 2016. The exponential growth of the cloud plays a big role in this surge, as it becomes faster and easier to engineer and deliver custom processes for businesses. In line with this growth, Technavio, a market research firm, predicts that the global BPO business analytics market will grow at a CAGR of 37.4 per cent between 2016 and 2020.
In the upcoming years, real-time business intelligence will be one of the most adapted technological tools which can empower organisations to achieve a competitive advantage. Determining the cost of an internal procurement and setting up of IT solutions, for instance, operational and supply chain analytics; business analytics play an important role to make the tasks of IT managers easier. A firm that spends a huge amount to procure standardised business analytics software solutions might observe an increase in its maintenance costs over time. On the other hand, this is not the case with business analytics outsourcing.
Cloud computing can offer fresh air to the BPO world by better usage of data as well as a reduction in the overall costs. The use of cloud computing in BPO as a result of enhanced platform concurrency upsurges service deliverability. To develop as a high-performing BPO, it is necessary to deliver value-added services with zero compromises to clients. The use of SaaS, PaaS, and IaaS can help the BPO to keep pace with the constant change of technology at an economical cost.
BPOs brace for Artificial Intelligence (AI)
New technologies that have developed over the past few years including robotic process automation (RPA) have begun to impact the BPO industry. Fundamentally, the bottom-of-the-pyramid work is the tasks that get outsourced to distant locations. RPA is slowly entering the industries to perform the outsourced work. Ensuring cost saving, competence, and swiftness, this process is making its way into all types of business processes and all other manufacturing industries.
The mounting impatience and displeasure for waiting time have activated the development of automated systems. RPA has emerged as a new trend in the BPM sector offering high-value creation with noteworthy cost savings and speedier time-to-value. With the emergence of artificial intelligence (AI), the outsourcing industry in the Philippines is concerned that this emergence is threatening the USD 23 billion sector. In addition, Information Technology and Business Process Association of the Philippines (IBPAP) has projected AI to replace 40,000 to 50,000 "low-skilled" or process-driven BPO jobs in the next five years. In addition the trade association of the Indian IT-BPM industry, Nasscom, predicted a 20-to-25 per cent reduction in jobs in the industry by the end of 2020.
The next BPO wave: Social Media
In a progressively competitive industry with lowered progression and profit prospects, one thing is clear - social media is the new game changer. Though social media is not making the industry go upside down, it is unquestionably altering the rules of the way people get in touch with the brand. The unparalleled wealth of consumer data and their feedback provide companies with the improved ability to analyse upcoming trends and innovate. Simultaneously, real-time customer engagement permits firms to gain first-hand product insights and solve glitches before they intensify to higher cost venues.
Nowadays, many BPO service providers are also investing in dedicated social media service teams. Working in social media teams, customer representatives are able to deal with customer complaints much faster. This all started back in July 2011, when Capgemini launched its social media management BPO service through a partnership with Attensity, using the social media monitoring firm's text mining and analytics software to monitor emerging trends as well as to identify brand influencers and engage in direct communication with customers.
Businesses now need to concentrate more on providing the best customer service by mapping individual preferences while delivering tailored services. For BPO industry, cost is a significant element, but technological innovation is the prime concern. In this era, businesses which have a competitive advantage are the ones that leverage the power of technology. It is obvious that the game has started and if businesses do not want to be left watching from the sidelines, it's time to pick up the ball and start optimising the prospects of current technology trends.
......................................................
Tanvir Ibrahim is Vice President of Bangladesh Association of Call Centre and Outsourcing (BACCO).
Fabbiha Zahin Raidah Is Junior Associate Consultant at Inspira Advisory & Consulting Ltd.