Gopalganj, Bogura arum farmers happy over healthy production, fair price
Our Correspondent | Friday, 12 July 2019
---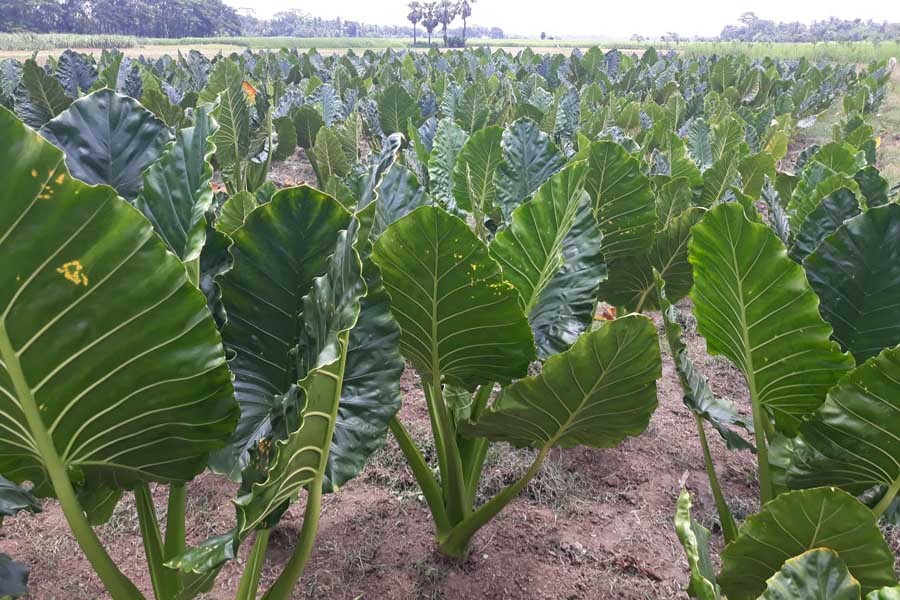 GOPALGANJ, July 11: Farmers of Jalalabad union under Gopalganj Sadar are becoming financially solvent by growing arum.
A good number of farmers said arum farming is profitable than other vegetables.
According to the Department of Agriculture Extension (DAE), Gopalganj official sources, a total of 55 hectares of land have been brought under arum cultivation in upazila with the production target of 265 tonnes.
About 1,000 grassroots farmers are engaged with the production of the item.
Kalam Sheikh of Chardalaitala village in the upazila said he cultivated arum on one bigha (52 decimal) of land. His production cost was around Tk 40,000.
The grower said he has already made a profit of Tk 0.1 million from his produce this season and expecting Tk 50,000 more.
Kalam said commercial cultivation of arum is gaining popularity in the district for its high profit.
Sub-Assistant Agriculture Officer of DAE Jalalabad union Santosh Kumar Biswas said the department provides all necessary support to the arum farmers in the area.
The official said farmers should expand the production of the item to make more profit.
Meanwhile, our correspondent from Bogura adds: Arum farmers of the district are happy over the fair price of their produce this season.
A DAE official said a good number of farmers showed their interest in farming the vegetable as the cultivation proves more profitable to them.
Arun Kumar of Nandigram upazila said this year he has cultivated arum on 20 decimals of land spending Tk 1,000.
The farmer said, "We are happy over the production and present market price of arum. I have already made a profit of Tk 50,000 this season and to expecting to make Tk 9,000 more."
Traders from neighbouring districts start visiting the area to buy the vegetable from the growers.
alimuzzaman81@gmail.com
reporter.fe@gmail.com