Govt's borrowing from banks may go up this month
Bankers see no impact on money market
---
Siddique Islam | Thursday, 6 September 2018
---
The government is set to raise bank borrowing significantly in September as part of financing its budget deficit for the current fiscal year (FY), officials said.
It may borrow upto Tk 130 billion from the banking system this month by issuing treasury bills (T-bills) and bonds, according to the auction calendar of the Bangladesh Bank (BB) released recently.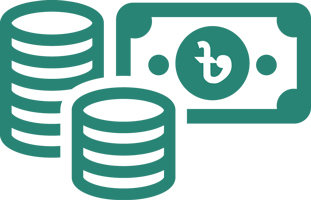 The gross bank borrowing figure was Tk 18 billion for August, but it was Tk 138 billion in July.
The net bank borrowing is set to reach Tk 30.50 billion by the end of this month after deducting Tk 99.50 billion as maturity of the government securities from the gross borrowing, according to BB officials.
The government will have to pay Tk 90 billion out of Tk 99.50 billion against the maturity of its securities, particularly 91-Day T-bills in September, the officials said.
The government's net bank borrowing was nearly Tk 40.39 billion as on August 19, according to a BB report.
Senior bankers, however, did not see any major impact on such borrowings, saying that it might not create any pressure on the money market.
"The market is now pretty stable," a senior treasury official of a leading private commercial bank (PCB) told the FE.
He would not elaborate.
The central bank officials said the government has already availed partially both overdraft (OD) drawing facilities and ways and means advances (WMAs) from the central bank to meet its budgetary expenses.
The government is now empowered to borrow up to Tk 40 billion from the central bank under the advances to meet its day-to-day expenditures without issuing any securities.
Besides, the government's limit for overdraft drawing from the central bank has been capped at Tk 40 billion.
Currently, the government is holding negative balance amounting to nearly Tk 45 billion in its accounts, a senior official familiar with the government debt-management activities told the FE.
"The trend in government's bank borrowing for the next month will depend on the overall revenue collection until the last week of September," the official noted.
The ministry of finance had set a bank-borrowing target of Tk 420.29 billion for the FY 2018-19 to finance the budget deficit.
Under the proposed bank borrowing, the government will borrow Tk 239.65 billion issuing long-term bonds while the remaining Tk 180.64 billion through T-bills.
Currently, four T-bills are being transacted through auctions to adjust the government's borrowings from the banking system.
The T-bills have 14-day, 91-day, 182-day and 364-day maturity periods.
Also, five government bonds, with tenures of two, five, 10, 15 and 20 years respectively, are traded in the market.