Green Delta Securities inks deal with StanChart
Tuesday, 9 February 2021
---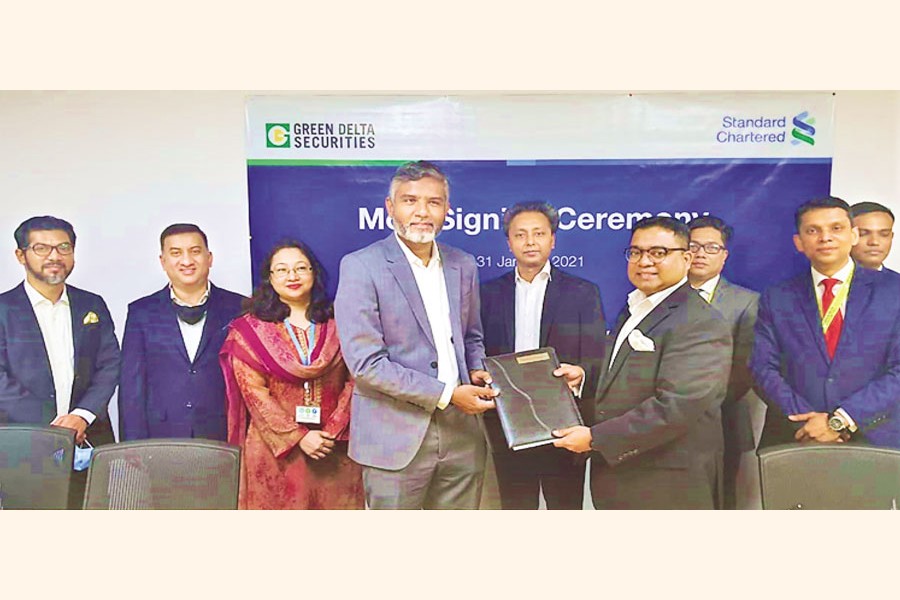 Green Delta Securities Ltd. (GDSL) has recently signed a MoU with Standard Chartered Bank (SCB) Bangladesh recently. Under this agreement, GDSL will open Non Resident Bangladeshis Beneficiary Owner (NRB BO) accounts of Standard Chartered clients from now on, with an attractive brokerage commission rate, said a statement.
Mr. Wafi Shafique Menhaz Khan, MD& CEO of GDSL and Mr. Sabbir Ahmed, MD & Head of Retail Banking of SCB Bangladesh, signed the agreement on behalf of their respective organisations.
Other senior officials from both organisations, including, Mr. Syed Moinuddin Ahmed (AMD & Company Secretary, Green Delta Insurance Company), Mr. Md. Rafiqul Islam (MD & CEO, Green Delta Capital Ltd.), Mr. Asad Murshed Bin Sher Ali (Head of Finance & Admin, GDSL), Mr. Fakruddin Ali Ahmed Rajib (Head of Business, GDSL), Lutful Habib (ED & Head of Retail Distribution, Standard Chartered), Tanmi Haque (Head of Priority & NRB Banking, Standard Chartered) were also present at the agreement signing ceremony.