Green groups call for steps to save Sundarbans
FE Report | Saturday, 15 February 2020
---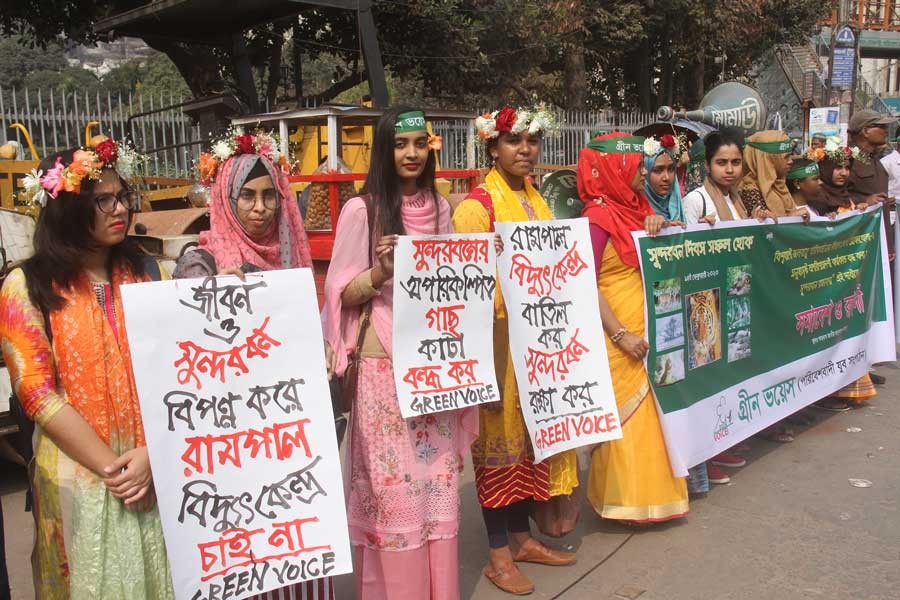 Environment rights groups observed the Sundarbans Day with a call to save the world's largest mangrove forest considered as a natural shell to protect the country's coastal areas from natural calamities.
Since February 14, 2002, the Sundarbans Day has been being observed in the country with the slogan to save and protect the world's largest mangrove forest.
Titled World Heritage Site 140,000-hectare mangrove forest lies on the delta of the Ganges, Brahmaputra and Meghna in the coastal area of the Bay of Bengal. It is facing different man-made threats, observed experts and rights activists.
Sundarbans continued to protect the country's coastal regions from cyclones and other natural disasters, experts said calling for mass awareness and government initiatives to make safe the natural shell.
The threats include indiscriminately dumping different types of non-biodegradable plastic items including pet bottles and packets in the Sundarbans.
The dumping of such things continues unabated mainly due to lack of strict monitoring and awareness among visitors and a shortage of manpower at the forest department, they said.
National Committee for Saving the Sundarbans (NCSS), Bangladesh Poribesh Andolon (BAPA), Center for Human Rights Movement, and Green Voice jointly organised a rally in the city on Friday with the slogan being 'to love and protect Sundarbans' marking the day.
The rally expressed concern over the falling fresh water flow in the Sundarbans, the harmful projects including Rampal thermal power plant and fishing using poison in the Sundarbans.
Md Abdul Matin of BAPA and also member secretary of NCSS addressed the rally, among others.
February 14 was declared as Sundarbans Day on 2002 after about 53 such environment and rights organisations came up with the demand to save the Sundarbans.
Md Abdul Matin of BAPA recalled Father of the nation Bangabandhu Sheikh Mujib's call to protect the Sundarbans and urged all including the government to take necessary measures to protect the world's largest mangrove forest on the eve of Mujib Year.
Organisers of the rally also put forward their demand including ensuring supply of fresh water in negotiations over the Sundarbans with neighbouring India, calling off construction work on power and other projects including the Rampal power project.
They also demanded cancelling all industrial and housing plots allotted on the side of the Sundarbans, stopping unplanned vegetation, killing of animals and fishing, limiting the number of tourists and stopping uncontrolled reservoir pollution and shrimp farming.
nsrafsanju@gmail.com